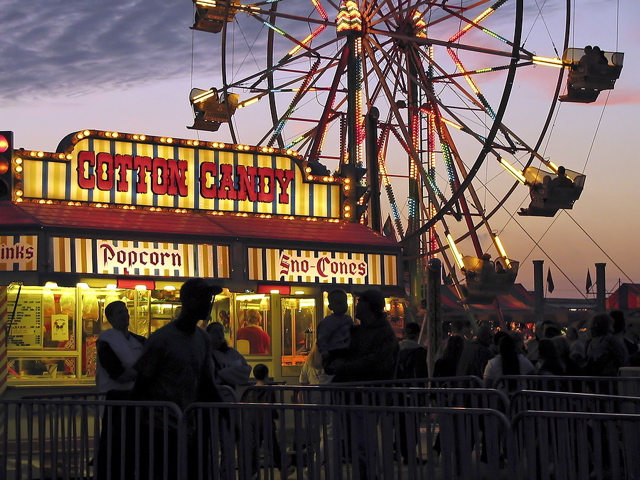 Hip hip hooray! We won! Marin County officials are claiming the record for recycling the most waste at a county fair, ever. Here in my beloved county, just north of the Golden Gate Bridge, roughly 90 percent of the garbage created at this summer's annual county fair was diverted away from local, overcrowded landfills. More than 38 tons of compostable materials and 4,369 pounds of recyclable material were collected. "I believe we set the new standard for what a county fair can achieve," said Jim Farley, the Marin County cultural affairs chief who heads the fair. "I can't ever recall a county fair being capable of diverting 90 percent of their waste like we did." Jim Tucker, president of the International Association of Fairs and Expositions, believes few fairs do a better job of recycling than the Marin County Fair. "I would say the county fair out there is probably the leader."
How did this all those caramel apples and garlic fries magically turn into compost and soon to be free, locally grown fertilizer for the county grounds?
It was a team effort between Marin Sanitary Service workers, coordinated by CEO Patty Garbarino and Conservation Corps North Bay crews headed by coordinator Jenni Pardi. Both groups helped collect and sort waste materials for composting while Teresa Bradley's Revolution Green worked closely with food vendors. "All three of these individuals have a standing ovation from the Marin County Fair for their dedication, commitment and hard work in the world of recycling, composting and waste diversion," said Farley.
Pardi, who trains youths and young adults in 'green collar' jobs, explained that her crews staffed 'ecostations' at the fair to collect and sort garbage."We've worked for the Marin Center for years," she said. " We do all the recycling at their events, but the county fair is special because they are so committed to recycling. If a county fair with 100,000+ people can do this, then we can all do it in our daily lives.This is such an important step in conserving our valuable natural resources."
Materials that went straight to the compost bin included 2.7 tons of food waste ranging from corn husks to avocado skins, 5.6 tons of biodegradables including paper towels and plates, and 30 tons of agricultural waste collected in the fair's barnyard area. "90 percent feels great," said Teresa Bradley of Revolutionary Green. "But, I'm never satisfied and next year we'll work even harder until we reach a 100 percent recycling rate."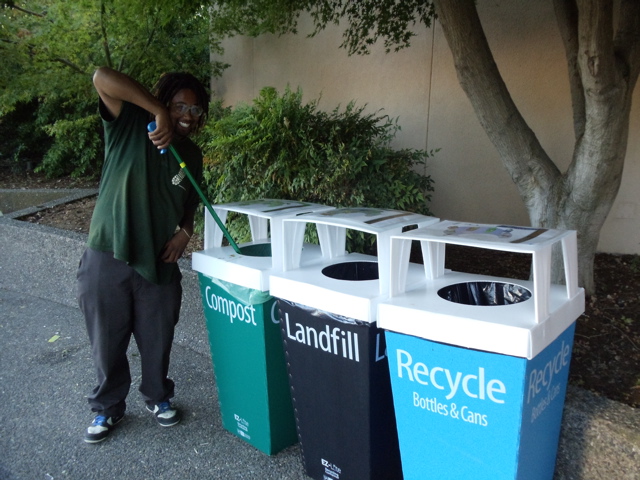 Where did all the trash end up?
It was taken to the Marin Sanitary facilities in San Rafael, California where it is perfectly cured in a fancy composting 'biocell' that prevents the release of harmful greenhouse gas emissions and later will be sent back to the fairgrounds as lovely, nutritious compost. Free high-quality, safety-tested fertilizer! It's win-win, baby!"When you're enjoying a big bag of popcorn or other fair treat, most people don't think about the waste that can be left behind--we do," said Patty Garbarino, Marin Sanitary Service (MSS) President.
Why does this $h*! matter?
Here are just a few reasons:
1.Close to 40 percent of our landfills are filled with compostable materials that are in return producing methane, a gas 34 times more potent than carbon dioxide and the second-leading greenhouse gas emitted in the United States. According to the Environmental Protection Agency, landfill methane emissions are the largest source of anthropogenic (human-related) methane emissions in the nation.
2.Compost promotes soil structure, helps to maintain soil moisture, moderates soil temperature, improves soil tilth, balances your soil's pH level so that nutrients are released slowly to plants and provides a food source for soil organisms.
3.Chemicals (synthetic fertilizers and pesticides) deplete the life of the soil. They take away the structure and the water of the soil. They take away the very organisms that make the soil fertility. When you add a layer of compost to your dirt, instead of a chemical fertilizer, you're adding life to your dirt and can then call it 'soil.' Ta-da!
4.When the land is dead and we add synthetic nitrogen fertilizer (instead of compost) to feed the crops, only about 20% goes to the plant roots. In the Midwest, wasted fertilizer flows into the rivers and streams and then into the Gulf of Mexico. This excess chemical- fertilizer feeds algae that grows and suffocates nearly all of the marine life creating 'dead zones.' Next, the mobile nitrogen combines with oxygen which then forms nitrous oxide and rises into the atmosphere accelerating climate change. (This is the 'evil' nitrous oxide, not the 'hahaha' one!) 25% of greenhouse gas emissions come from agriculture.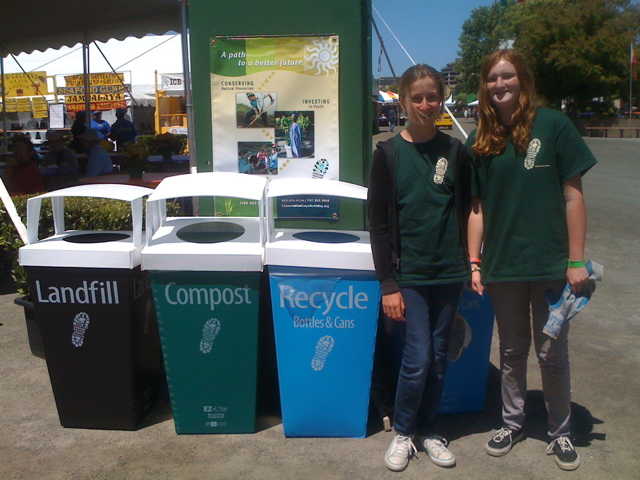 "What we've proven this year and in years past is that we don't have to choose between
honoring the traditions of our past and protecting our children's future -- we can do both
by making our fair clean and green, but also lots of fun," said Farley. "What other county fair can say they recycle nearly all of their waste, have a solar powered carousel and stage concerts powered by biofuels?"
They'll be happy to trash talk with you any time.
P.S. Huell Howser, founder and host of the PBS television program "California's Gold" will feature the Marin County Fair in a new thirty-minute program. Howser visited the fair on Thursday, July 1 and filmed elements of the "Greenest County Fair on Earth," interviewing staff and Fair guests. Segments range from the solar carousel to waste diversion, healthy food choices to waterless urinals. Howser is developing "California's Golden Fairs", a PBS series that will consist of ten episodes focusing on the rich history and relevance of California fairs. This Marin County Fair episode will begin airing throughout California in September:
KVIE, Sacramento
Tuesday, September 21 7:00 PM
Thursday, September 23 8:00 PM
KPVT Fresno
Thursday, September 23 8:00 PM
Saturday, September 25 12:00 PM
KCET, Los Angeles
Wednesday, September 22 7:30 PM
KVCR, San Bernardino
Thursday, September 23 8:00 PM
KPBS, San Diego
Thursday, September 2 8:00 PM
Saturday, September 25 5:30 PM

The California's Golden Fairs series featuring Huell Howser is produced in conjunction with the Division of Fairs and Expositions of the State of California.

SUBSCRIBE TO & FOLLOW THE MORNING EMAIL
The Morning Email helps you start your workday with everything you need to know: breaking news, entertainment and a dash of fun. Learn more