A downtown Los Angeles organization called WriteGirl is this year's California Nonprofit of the Year. The group received a Medal for Service May 6 in Sacramento at the California Museum.
Executive Director and founder Keren Taylor accepted the award from Governor Arnold Schwarzenegger and First Lady Maria Shriver.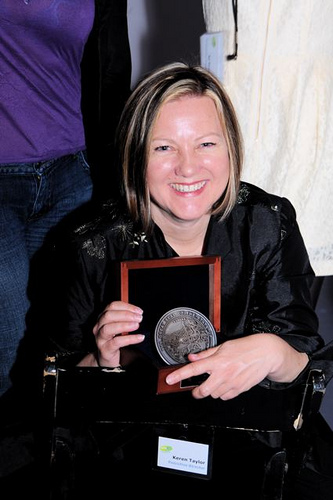 Founded in December 2001, WriteGirl matches aspiring teen writers with mentors who coach them in many different styles of writing: nonfiction, screenplays, songwriting, even poetry. WriteGirls and their mentors meet regularly for one-on-one coaching and mentoring. They also go to monthly workshops put on by WriteGirl. Mentors come from places like the Los Angeles Times, Disney, and the Writers Guild.
Importantly, WriteGirl writers get published, every year, in an anthology. The most recent, Silhouette, picked up a National Best Book award, among other prizes.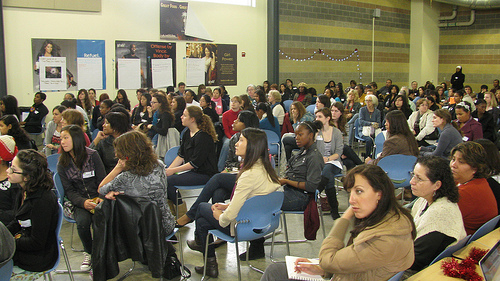 WriteGirl prides itself on the fact that every one of the more than 3,600 girls who have passed through the program have gone on to college. The group has all kinds of high-achieving fans including screenwriter Diablo Cody, producer Nancy Meyers, and director Gina Prince-Bythewood.
I'm a one too, and I help organize and edit the blog that that's been written almost completely by girls over the last few years: writegirlblog.wordpress.com. We have our regular-irregular meetings in WriteGirl's offices downtown above, fittingly, the literary Lost Souls Cafe.
We pore over laptops, giggle, and get a lot done. I've gotten to know a handful of really fabulous and funny ladies from all kinds of backgrounds, some of whom are now just about to finish their first year of college.
When I heard the news about WriteGirl's latest honor, I asked two of our newer bloggers to take a crack at telling us how they felt about it. Here's what I got from Charice, age 17:
I'm so excited to hear that WriteGirl is being honored as California's Nonprofit of the Year! I was introduced to WriteGirl a little over a year ago when I interned for them for two months. I came in to the office thinking that it would just be another laid back internship but I was wrong. It takes so many different people to help run Writegirl.
I became more involved in this program than any program I've joined. Since then, I've met so many different writers that have influenced me to keep writing with confidence. WriteGirl truly deserves this recognition for its outstanding effort to help at risk teens discover their inner voice through writing. Without WriteGirl, I wouldn't have the confidence I have now to write.
Ashley, age 16, had this to add:
The phenomenal women behind WriteGirl have truly touched my life. They have created a progressive movement that I know will continue to cultivate and manifest bright young women for decades to come. The WriteGirl motto, "Never underestimate the power of a girl and her pen," now holds a place in my heart.
I also have a clearer understanding of how I relate to the world around me through my writings. I've learned how to draw from my circumstances. I've always been passionate about writing as an art form, but being a WriteGirl mentee has caused me to recognize writing as a way of life. It's amazing what an impact one Saturday out of the month can have on your personal development, and self-motivation. WriteGirl deserves every single iota of recognition it receives.

I couldn't agree more. The group has gotten plenty of honors and has lots of high-level fans. But in this vulnerable financial climate even the best groups are struggling. With luck, this latest kudo will keep the group alive and and ensure that more LA teen girls will have the sense of self they need to excel -- whether or not they become professional writers.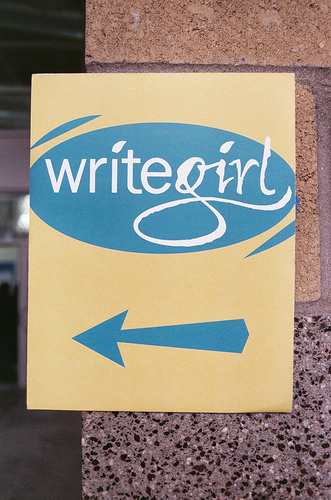 SUBSCRIBE TO & FOLLOW THE MORNING EMAIL
The Morning Email helps you start your workday with everything you need to know: breaking news, entertainment and a dash of fun. Learn more