Director Gregory Everett didn't know his father growing up. But he did know that he had been a Black Panther. Everett would sometimes mention that when he wanted kids to back off on the playground. And they did.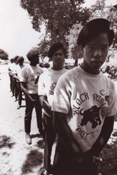 In 2001 Everett reconciled with his father, and began to work in earnest on a film about him and the other members of the Southern California Chapter of the Black Panther Party. The result is 41st and Central: The Untold Story of the L.A. Panthers . A festival version of the project premieres Monday, February 15th at the Pan African Fim Festival.
The Southern California branch of the Black Panther Party was founded by Alprentice "Bunchy" Carter. Carter was a leader in the Slausons gang and its spinoff the Slauson Renegades. Carter spent four years in prison and became a Muslim there. He formed and headed the Southern California chapter in early 1968. Carter and another Panther were shot dead in early 1969 on the UCLA campus. Within a year, the Southern California Chapter was no more.
Everett says he started thinking about the project when he met former Panther Roland Freeman at community meeting in the early 1990s. Freeman told him that his mother had kept a scrapbook about the Southern California Chapter. Those materials would become the foundation of Everett's search for the elements to bring the Panther story to life.
Everett went on to interview a number of former Panthers, including his own father Jeffrey Everett, about the Southern California Party's founding and philosophy -- especially its commitment to self-defense and weaponry. In this clip, Jeffrey Everett recalls the August 6, 1969 shoot out at Adams Boulevard and Montclair Avenue where police killed two Panthers.
Other interviews include eyewitness accounts of the deaths at UCLA, and the December 9, 1969 shoot out with the LAPD's new SWAT unit at Panther headquarters at 41st Street and Central Avenue in Los Angeles. Everett also talks to former LAPD Police Chief Bernard Parks and members of US, a black nationalist group also prominent in LA at the time.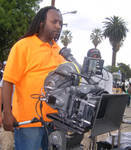 Everett, whose day job is as a producer for TV One, hopes a television network will broadcast the project, perhaps as a four-part mini-series. It's chock full of historic clips that make it costly to broadcast, so he's still working on the funding. But he's proud that some LAPD staffers who recently saw the piece liked it.
41st and Central: The Untold Story of the L.A. Panthers screens Monday, February 15, 2010 at 3:30 pm at the Culver Plaza Theatres, 9919 Washington Boulevard, Los Angeles. A panel discussion will follow. For more info, www.paff.org.
FOLLOW HUFFPOST