You don't always link UCLA and baseball. But this year has been a good one for fans of the Bruins and the sport.
The Bruins (41-12) are ranked seventh in the nation. They are almost certain to make the NCAA Tournament, and, perhaps, the College World Series. And if they win just one of three home games this weekend against Washington State, they will set a team record for most regular season wins.
Soaring with the Bruins this weekend will be Gerald the Hawk, the team's unofficial official team bird. Here is what some call his official photo, pulled directly from Gerald's Facebook Fan page.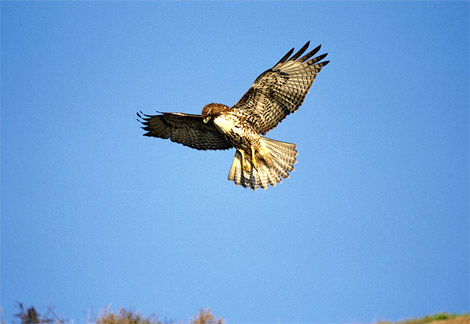 Obviously, getting a straight story on Gerald is tough. He is, after all, the stuff of legend -- and, far worse, sports legend. But most agree he is at least part red-tailed hawk .
Also undisputed is his turf: around and over Jackie Robinson Stadium and Steele Field in Westwood, where the Bruins play their home games.
And players, coaches, and fans are certainly fond of Gerald.
"He inspires us with his random fly-bys over our field during the games," says Bruin pitcher Chase Brewer, who also created Gerald's Facebook Fan page.

"He also likes to perch on top of our light pole and watch the pitchers throw."
Others, like Danny Rees, a UCLA student and a color commentator on baseball broadcasts, go further.
Rees says when Gerald appears, the Bruins actually do play better.
Former UCLA Baseball Coach Gary Adams has his own theory: "Ballplayers are superstitious."
"I believe hawks show up when they are bored with the routine hawk life style," he adds. "Watching an exciting ball game is a good way to shake boredom."
More elusive are the details of Gerald's life.
His Facebook bio maintains he is Gerald Junior. It says his dad Gerald Senior also hung out at the park and lived in a nearby eucalyptus tree.
Experts say hawks will pass their turf from one generation to another. So Gerald Junior's takeover makes sense.
Former UCLA player Nick Theodorou remembers not only Gerald but both his parents, who may also have nested at Jackie Robinson Stadium in the early 1990s.
'Many times during team meetings or stretching those hawks would scout for a morsel," says Theodorou.
"And I do remember [their] striking and eating a squirrel as the team stretched and watched."
"Red-tailed hawks like to eat mice, rats, or even rabbits," says Bill Murphy, President of the California Hawking Club, which protects and promotes birds of prey.
"Big open spaces like ball fields give them room to drop down and make their catch. "
Murphy says it's not unusual for hawks to nest or otherwise preside over baseball fields. He says a family of red-tailed hawks lived in San Francisco's Candlestick Park above the first-base foul line for a long time.
But he says the hawks should not trouble fans or their food. And unless someone climbed a pole and poked into their nests, they're not likely to be aggressive.
That's good news for visitors to the Jackie Robinson Stadium and Steele Field. It's a cozy, casual scene, where the low-lying bleachers and grass lawns pull you right into the game.
Enter the stadium and you will pass a statute of Dodger star Jackie Robinson, who also played at UCLA.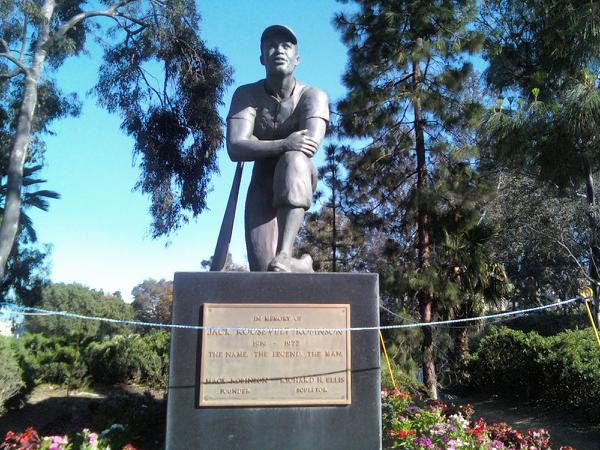 Stand there and you'll see folks stop, look, and maybe even talk to him.
"I like to think that those hawks are also the presence of Jackie Robinson here," says former player Nick Theodorou, now a UCLA executive and broadcaster.
From the way this season's going, it's a good bet he's got that one right.
*****************************************
Share links to pictures of hawks, especially red-tailed ones, and birds that live in sports stadiums in the comments section below.
*******************************************
SUBSCRIBE AND FOLLOW
Get top stories and blog posts emailed to me each day. Newsletters may offer personalized content or advertisements.
Learn more