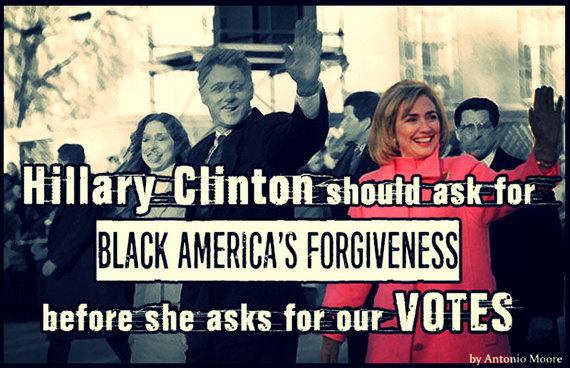 "If anyone doubts that the mainstream media fails to tell the truth about our political system (and its true winners and losers), the spectacle of large majorities of black folks supporting Hillary Clinton in the primary races ought to be proof enough. I can't believe Hillary would be coasting into the primaries with her current margin of black support if most people knew how much damage the Clintons have done -- the millions of families that were destroyed the last time they were in the White House thanks to their boastful embrace of the mass incarceration machine and their total capitulation to the right-wing narrative on race, crime, welfare and taxes. There's so much more to say on this topic and it's a shame that more people aren't saying it. I think it's time we have that conversation." Michelle Alexander
"... there are currently more African American men incarcerated in the U.S. than the total prison populations in India, Argentina, Canada, Lebanon, Japan, Germany, Finland, Israel and England combined. India alone is a country of 1.2 Billion people, the country in total only has around 380,000 prisoners."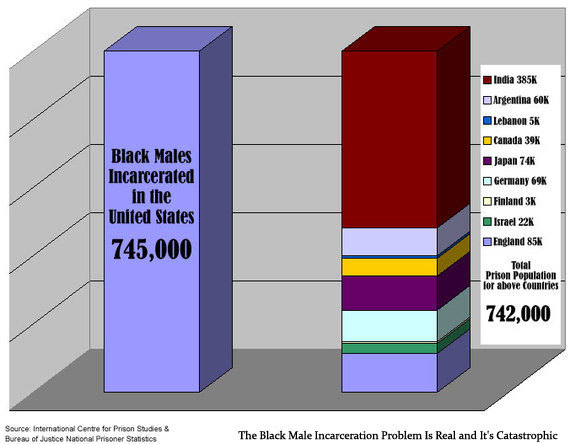 " They are not just gangs of kids anymore. They are often the kinds of kids that are called 'super-predators.' No conscience, no empathy. We can talk about why they ended up that way, but first we have to bring them to heel..." Hillary Clinton 1996
Bill Clinton was the standard-bearer for the New Democrats, a group that firmly believed the only way to win back the millions of white voters in the South who had defected to the Republican Party was to adopt the right-wing narrative that black communities ought to be disciplined with harsh punishment rather than coddled with welfare... Clinton mastered the art of sending mixed cultural messages, appealing to African Americans by belting out "Lift Every Voice and Sing" in black churches, while at the same time signaling to poor and working-class whites that he was willing to be tougher on black communities than Republicans had been... An oft-repeated myth about the Clinton administration is that although it was overly tough on crime back in the 1990s, at least its policies were good for the economy and for black unemployment rates.

The truth is more troubling. As unemployment rates sank to historically low levels for white Americans in the 1990s, the jobless rate among black men in their 20s who didn't have a college degree rose to its highest level ever. This increase in joblessness was propelled by the skyrocketing incarceration rate." Why Hillary Clinton doesn't deserve the Black Vote" - The Nation
During the last two decades, the large-scale use of incarceration to solve social problems has combined with the fall-out of globalization to produce an ominous trend: prisons have become a "growth industry" in rural America. Communities suffering from declines in farming, mining, timber-work and manufacturing are now begging for prisons to be built in their backyards. The economic restructuring that began in the troubled decade of the 1980s has had dramatic social and economic consequences for rural communities and small towns. Together the farm crises, factory closings, corporate downsizing, shift to service sector employment and the substitution of major regional and national chains for local, main-street businesses have triggered profound change in these areas. The acquisition of prisons as a conscious economic development strategy for depressed rural communities and small towns in the United States has become widespread. Hundreds of small rural towns and several whole regions have become dependent on an industry which itself is dependent on the continuation of crime-producing conditions.
"I've made mistakes, I've walked my own journey... we also learned about what doesn't work, some of what we tried didn't resolve problems. Some ended up creating new ones. And that caused disappointment, frustration, even anger." Hillary Clinton 2016
FOLLOW HUFFPOST