AD editors select their must-have items, from simple pleasures to ultimate luxuries.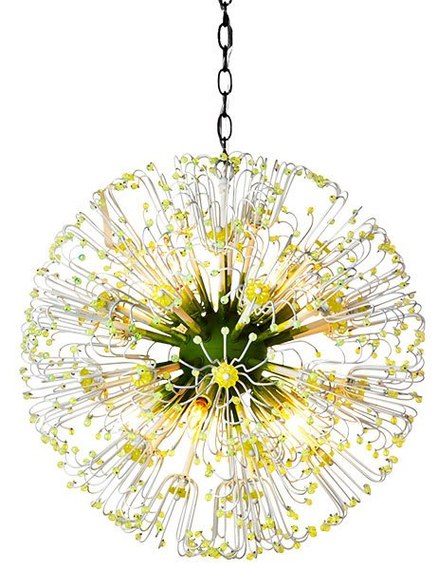 With its delicate blossom silhouette, Canopy Designs' Dandelion chandelier conjures a carefree, summery spirit. The 22"-dia. hand-painted fixture, pictured in white/green ombré with milky-jonquil beads and milky-raincoat glass rosettes, can be completely customized; $2,878 as shown. canopydesigns.com, 212-355-0033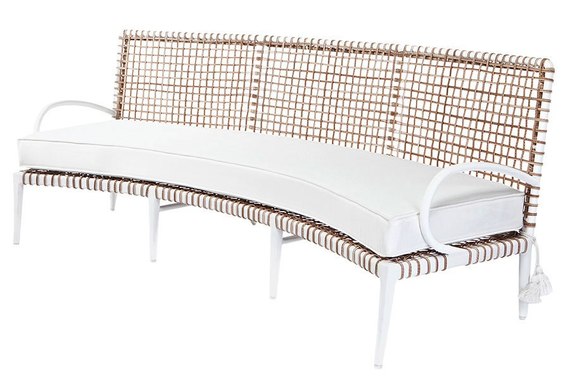 PHOTO: CHRISTOPHER AMARAL
Roger Thomas's Omega curved sofa for Walters boasts a graphically woven seat and back in synthetic rattan on a powder-coated-aluminum frame. Part of the Delta collection, the piece--measuring 90" l. x 30" d. x 36" h. and shown in white with a matching cushion--is available in custom colors and sizes; to the trade. walterswicker.com, 212-758-0472
Featuring a wicker rim and a resin base in a Portuguese tile pattern, the Caned Tile Print tray by Oscar de la Renta Home channels the casually urbane entertaining style the late couturier practiced at his Dominican Republic home. The tray measures 20" x 28" and costs $590. oscardelarenta.com, 888-782-6357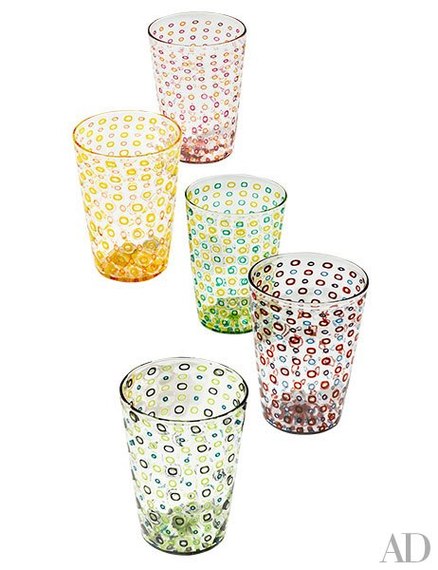 Using traditional glassblowing techniques, artist Fujiko Enami fashions a magical dance of color and light in her 3.5"-tall Kanokomame glasses from Sara Japanese Pottery; $115 each. saranyc.com, 212-772-3243
The spring 2015 line of luxe bedding by Donna Karan Home includes, from top, an embroidered silk pillow ($190), silk-and-cotton standard sham ($165), queen banded cotton coverlet ($250), and queen silk-and-cotton quilt ($625). Select pieces are offered in other colors; available from Bloomingdale's. bloomingdales.com, 800-777-0000
More from Architectural Digest:
SUBSCRIBE AND FOLLOW
Get top stories and blog posts emailed to me each day. Newsletters may offer personalized content or advertisements.
Learn more