If it feels like New Year's Eve snuck up on you this year, you're not alone. It's been a whirlwind 2009, what with the economy, bizarre weather patterns, missed Olympic opportunities and too many scandals in Illinois politics to really want to rehash. With that, it's about time to put this year behind us and focus on a great 2010, and what better way to do that than with a fantastic bubbly toast on Thursday night. Whether you start your night with some prosecco or cava or hold out for a midnight toast with the big guns, your New Year's plan should include some sort of sparkling wine.
If you have deep pockets or just a few bucks, you have a lot of options for some really good sparkling wine. You don't have to splurge on Champagne (but you'll enjoy it if you do), and can find some great deals with wine from Alsace, France to New Mexico (yes, you read that right). So don't wait too long when all the really good stuff is sold out. Head out now to your favorite local store. Here are some suggestions of what to look for.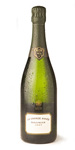 The Bollinger '99 Le Grand Annee comes from one of France's top Champagne houses with the winemaker only producing it from worthy harvests. It doesn't come around all the time, so if you're looking for something special, the Bolly is a refined, elegant bubbly. Available at Binny's Beverage Depot for $139.99
With lots of tiny bubbles and a beautiful golden hue, the Delamotte Brut NV is slightly yeasty and a bit dry, but rounds out with really nice green apple and stone fruit notes. If you taste it just right, you'll even get a hint of mango. It's a mid-priced Champagne and can be found locally for about $50.

If you're entertaining a crowd and don't want to break the bank, prosecco is a great way to go. One you can find almost everywhere is Il Prosecco by Minoetto. This light and pleasant sparkler comes from Italy's Veneto region and is always a crowd-pleaser. Another, harder-to-find prosecco is the Adriano Adami Garbel Brut from Colbertaldo, Italy. It's crisp and dry with some lively fruit notes. Both will run you about $12 so you can enjoy a toast and not have to spend a ton.

While most people are familiar with Champagne, Alsatian sparkling wine is called Cremant and is equally delicious and often significantly less expensive. A perfect example is Lucien Albrecht Blanc de Blancs--one of my personal favorites. This is one of the oldest wine-producing families in the region (dating back to 1425) and I recently had the pleasure of having lunch with Jean Albrecht, the current winemaker. This wine comprises 100 percent Pinot Noir grapes and is light and delicate and makes a great toast for around $20 a bottle (Whole Foods should have a bunch).
There are some really wonderful sparkling wines produced in the United States in the methode champenoise, which is how Champagne is made, but not from the Champagne region of France. A newer favorite that can be found all around Chicago is the Gruet Brut produced, surprisingly, in New Mexico. This full-bodied bubbly has some nice toasty notes but is rounded by citrus and apple flavors. It can usually be found for about $13.

Another stunner is the Schramsberg Brut Rose, made in Napa Valley primarily of Pinot Noir grapes but is then balanced with Chardonnay. It has a gorgeous pink hue and is a crisp, dry sparkling wine that goes well with a variety of food, from seafood to chicken to even filet mignon due to its balanced fruit and acidity. Grab some bottles for $36.99 at Binny's.

Finally, if you want to support a local business, you can't go wrong with the brilliant Bin 36 10th Anniversary Cuvee, a Pinot Noir/Chardonnay light rose sparkling wine with hints of cherry and orange peel. It's produced by Dan Sachs and Brian Duncan, who own Bin 36 restaurant and is sold on premise for about $30.
SUBSCRIBE TO & FOLLOW THE MORNING EMAIL
The Morning Email helps you start your workday with everything you need to know: breaking news, entertainment and a dash of fun. Learn more