Ottumwa, Iowa
It is two in the morning and Jan Knock is waiting for John Edwards to walk through her front door. Knock, a precinct captain in the tiny town of Creston, is hosting the toughest shift in the finale to Edwards' resilient Iowa campaign, a 36-hour statewide juggernaut dubbed the "Marathon for the Middle Class." Skipping from supporters' homes to ramshackle field offices to café meetings with what might be some of the last undecided activists in southwestern Iowa, Edwards belts out a spare but supercharged iteration of his populist stump speech. "This is personal for me," he thunders, recounting how his family's hardships have fortified his resolve to fight for economic justice.
And it's personal for some people who stayed up late to see him.
After a midnight speech in Council Bluffs, a young woman approached Edwards and told him she could not afford the medical bills under her health insurance. It is wrong that people in this country can't get basic health care, she said, her voice cracking with emotion, as Edwards pulled her into a tight hug. Her father, Paul Dreher, said he came to the event "halfway undecided," and after hearing about Edwards's commitment to working people, he will caucus for him on Thursday.
Edwards also appeared to move the crowd in Creston, especially his hostess Ms. Knock. "He speaks to me, to my very soul," she said. Knock thinks the combination of a core "loyal" support network and wide popularity among Iowa Democrats will make Edwards the winner on Thursday. "He's a strong second choice, I have friends who have gone with Edwards or Biden or Dodd -- all by the way, incredible candidates, the slate is just incredible, but Edwards is their second choice," she explained. Kathy Tapken, a 64-year-old guest at the Creston gathering, said she also planned to back Edwards on Thursday, which will be her very first caucus.
Edwards Campaign Manager David Bonior estimates that Iowans' second choices, which can tip the race in second round voting, will secure Edwards' victory on Thursday. "We know from our calling and our polling that we are the most popular second choice," he told The Nation. Bonior also said that recent attacks from the Obama Campaign indicate they are worried about Edwards' potential to win the caucus.
At a rustic farmhouse in Atlantic, Iowa, Edwards and his wife munched on chili and corn bread with a blue-collar crowd that ranged from several teenagers to more than one woman in her 80s. Helen Pigg, who still remembers seeing President Roosevelt on a train tour through Atlantic in 1936, said she was committed to caucusing for Edwards, just as she did in 2004. She told me, "I like what he stands for -- for the common guy."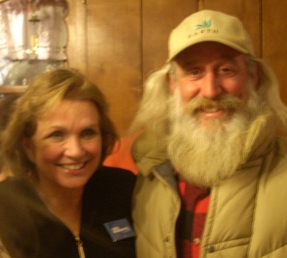 Elizabeth Edwards with a supporter in Creston, Iowa last night.
Ari Melber writes for The Nation, where this report first appeared.
For more photos from the road, check out my bus-mate Eli Sanders' reporting at The Stranger.