Every day of the week, The Pollination Project provides $1000 in seed funding to an individual who is working to make the world -- or just their own community -- a better, more peaceful and more sustainable place.
Here are the extraordinary people and ideas changing the world this week:
John Bruce and Pawel Wojtasik, trained End of Life doulas, are developing an interdisciplinary approach to greater compassion and care for the dying, their loved ones, and the community of caregivers and others who are moving society toward a more enlightened approach to death. The End of Life project includes an interactive online platform of stories and resources, a traveling installation, and a feature-length film to bring peace, dignity and significance to the dying person and their loved ones.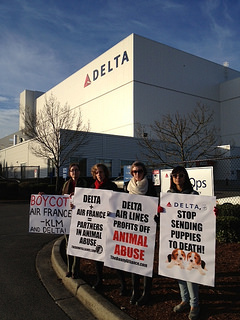 Amanda Schemkes is on a cross-country campaign against Delta Air Lines' transport of animals to research laboratories. Amanda and her project partner Jordan Ezell, along with a national network of grassroots animal rights activists, are holding a series of educational demonstrations at Delta's hub airports and offices. The Bunny Alliance "Gateway to Hell Tour" also includes activism workshops to help build and empower local communities to coalesce around ending the exploitation of animals.
Nicole Travis and Mohamed Ali work with the Peace by Piece Project, which helps people in Masindi, Uganda make and sell quilts from leftover fabric. The proceeds are used to purchase uniforms the local children are required to wear to school. With the success of this Peace Corps-driven project, the tailors are regularly short on supplies, which are only found in the capital city -- an eight-hour round trip -- so Nicole and Mohamed are helping open a tailoring supply store to continue the wonderful work the group is doing providing for the greater community.
Alexandra Fuller brings Mixed Martial Arts training to underserved young adults in Roxbury, Massachusetts. Through her Level Ground Mixed Martial Arts program, and a partnership with the local YMCA, Alexandra is meeting the growing demand for the program, which teaches the values of respect, discipline, self-control, tenacity and humility. Alexandra says her students "overcome incredible barriers they face that compromise the realization of their potential and dreams."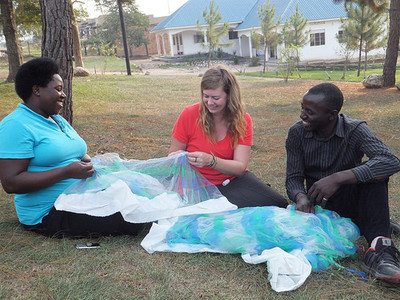 Kendra Smith is a Peace Corps volunteer fighting the spread of malaria in the rural Kiruhura District in Southwestern Uganda. She conducts workshops called Uganda Bites Back for local volunteers to learn about malaria education and prevention, including mosquito net repair, care, and maintenance, and spread their knowledge and skills with the larger community.
Travis Hysell founded The Legacy Initiative of Utah, a grassroots group that fights hunger, provides humanitarian aid, and educates people through community partnerships. The group accomplishes a great deal with minimal resources, including a successful homeless outreach program and 20,000 meals served in less than two years. Currently the group is building a 3.8-acre community garden and an 8-acre food forest in American Fork, Utah.
Melinda Harvey, along with her team members Samantha Jockel, David Drinkall, and Daniel Harding, founded The Go Tribe, a global giving circle working to eradicate poverty. Each month the group profiles one issue and project, sets a giving target and rallies the tribe to "GO!" By collaborating and pooling efforts, The Go Tribe proves small acts of generosity can make big change.
Congratulations to our grantees this week for their outstanding work.
These are just a few examples of what a little seed money can do when put in the hands of someone with a vision and a plan to change the world.
2014 is our second year of daily giving, a practice we recommend you take on in your own way. You'll understand how the simple practice of daily giving has the power to transform.
The Pollination Project makes $1000 grants every day, 365 days a year to individual changemakers. Please go to our website at www.thepollinationproject.org for funding guidelines and application.
Photo courtesy of Kendra Smith
SUBSCRIBE TO & FOLLOW MUST READS
The internet's best stories, and interviews with the people who tell them. Learn more