I first heard that term used in reference to my daughter, Emma almost seven years ago now, when she was first diagnosed at the age of two years and nine months. It was a term we became familiar with as time went on. One of Emma's early intervention therapists used it during a team meeting one evening. It was an odd concept, one I was unaware of until Emma's team began discussing it in relation to Emma.
Emma, like many children diagnosed with autism, has a difficult time applying something she's learned in different situations and settings. For example when she was much younger, I tried to teach her what a t-shirt looked like by holding up an actual t-shirt, one of hers with a pink heart on it. She was able to remember what that particular t-shirt looked like and called it a "t-shirt". If I then took out a different t-shirt, one of mine, or a different colored t-shirt from her drawer, she was not necessarily able to understand that this too was called a "t-shirt".
If I showed her a flashcard with a green ball and explained that this was the color green and then pointed to a slightly different shade of green on one of our dining room chairs, she wasn't able to tell me that the color I was pointing to was green. Temple Grandin, speaks about this at length, she calls it "thinking in pictures." She says she stores images in her mind and then flips through the images to come up with the correct one to fit the word being used. She then goes on to describe how problematic this system of retrieval is for her. One can easily understand why.
Over the weekend I worked with Emma on two words: "yes" and "not." "Yes" was a bit easier for her to incorporate into her writing, but "not" completely threw her. When I said, "Emma, what are these?" and pointed to a picture of three trucks, she answered correctly, "These are trucks." If I then asked her, "Are these trucks?" pointing to the trucks, she was able to understand that if you answer, "Yes, these are trucks" it didn't change the structure of the sentence, one just needed to add "yes" to the beginning of the sentence. But if I then asked, "Are these trucks?" while pointing to three frogs, she had a terrible time answering, "No, these are not trucks." When I asked her to, "Give me the one that cannot walk," from a field of four objects: a bus, a truck, a plane and a kid," she handed me the kid.
I know Emma understands what "not" means, but in this context she was baffled. It reminded me of those first few years when we were new to all of this, and almost constantly perplexed by almost everything she said and did. I remember watching in dismay as she proceeded to memorize several hundred flashcards that her therapists used with her. The therapist would hold up a card with a picture of a bike, and Emma would shout, "bike!" The card with a dress, Emma yelled, "dress!" and on it went. I fully expected her to go on to a regular kindergarten, at the rate she was going. But very quickly I realized that though she had no trouble with her memory, could memorize some 400 flashcards, she could not use the information beyond the flashcards.
In other words, the information wasn't being translated across a larger field. She did not use the words, we now knew she knew in everyday sentences. If we went out into the park and I saw a kid on a bike and said, "Em, look! What's that kid riding on?" she couldn't tell me it was a bike. It didn't look exactly like the flashcard with a bike. For one thing it was a kid's bike and for another it had pink plastic tassels on the handlebars and a little bell with a picture of Dora on it. This bike looked completely different from the bike on the flashcard and so Emma was at a loss as to what this new thing was called.
The good news is, Emma now can identify a bike, any bike, but it took awhile. This is what we are up against when trying to teach Emma.
For more on Emma's courageous journey through a childhood of autism and our admiration for her, go to: www.EmmasHopeBook.com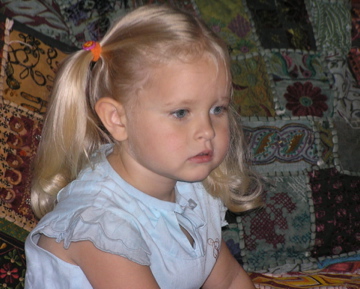 SUBSCRIBE AND FOLLOW
Get top stories and blog posts emailed to me each day. Newsletters may offer personalized content or advertisements.
Learn more