Who knew the gang at the White House was such a bunch of cut ups? Turns out that in between waging a disastrous war in Iraq and subverting the constitution at home, Karl Rove and company love nothing better than pulling frat house pranks on one another.
The practical joke of the week, the covering of Karl Rove's prize Jag with plastic wrap and an "I Love Obama" sign was the brainchild of Bush economic advisor Al Hubbard -- a hilarious payback for the countless times Rove had pulled the side-splitting stunt of moving Hubbard's car during the middle of the day so that when he'd leave the office after work he'd think it had been stolen. Tony Snow must be really, really broke to leave such a yuk-fest behind.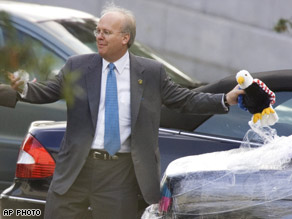 This Blogger's Books and Other Items from...