THE BLOG
Happy Holidays Hollywood!
Hello Hollywood! It's recession time, and even you're not immune. But you've known that for awhile. Even before the writer's could come to the bargaining table last year, whispers of a SAG strike were on the horizon. Last year's strike is still taking its toll on you, and actors today, with few jobs on the horizon, are split on whether to strike or not. On top of that is the ever-growing problem of distribution. Top indie powerhouses shut their doors for good this year: Paramount Vantage, Warner Independent, Picturehouse, and Newline, leaving even fewer options for film outlets in an already small market. And now the unthinkable, the giants like Sumner Redstone and Steven Spielberg are facing cash flow problems.
Just how much is the credit crunch going to affect your golden gates oh Hollywood? We went to the source, the Gotham Independent Film Awards, and spoke to film elite like Sir Ben Kingsley, Penelope Cruz, Patricia Clarkson, Gus Van Sant, Dennis Hopper, Darren Aronofsky, IFP Director Michelle Byrd, and more, on what they saw as the most pressing issue in the industry now. And more importantly, how to solve it? Harvey Weinstein is putting his faith in Obama to save Hollywood. But what does the film industry really need to save itself this holiday season? Read on to find the results.

What do you think is the biggest problem facing the film industry today?
Sir Ben Kingsley: Distribution. Distribution is in the hands of too few people. And that even though the public might want to see a film - they say to me, "You mean it's been and gone? I can't believe that." So many times people have said that to me this year about really important beautiful films. So we need to really address the distribution seriously.
Patricia Clarkson: Money. There's so much talent, so many people available, but it's money.
Penelope Cruz: I don't think it's different than last year. I think it's always hard to make a movie. When you are working with a big studio and a big production maybe you encounter different problems so it's never easy one way or the other. There is a kind of freedom that you have when you are working with a smaller production. It's really every day more about survival. But there is a kind of freedom that I really appreciate, because my career has been mainly based on those projects.
Dennis Hopper: Being distributed.
Darren Aronofsky: Probably the strike. I mean, hopefully that won't happen, so we'll see. But I think also there's probably too much stuff made, and so there probably needs to be a little bit more control.
Evan Rachel Wood: Especially with the economy right now, it's so hard to get [indie] films made. So when they do, it's just a miracle. They need all the help they can get.
Jennifer Esposito: Finances, like everything else. When the economy goes low, people don't want to spend money on making movies that the masses already won't see. Great clips go by that maybe don't appeal to the masses, but they're important films. So that's unfortunate that that happens, and that they make these big action flicks or something. So much less films are being made.
Gus Van Sant: There's a lot of focus on tenfold movies and not so many smaller subjects. That's a big one. It sort of limits the number of films that can be made.
Harvey Weinstein: I think it's the credit crunch, which has affected everybody involved to get the new movies financed. But I'm very pleased, because I think Barack Obama is making all the right choices. And six more weeks to go and we'll be out of this mess.
Aasif Mandvi: In the independent film world you're always fighting time and resources versus creativity. It would be great to have more resources available in the independent world, when you're trying to make a small film. I think there are really interesting stories being told and there's not a lack of creativity so if there is problem I don't think it's that.
Michelle Byrd: Reaching audiences. The cost, the way to find audiences, whether it's on the internet, through special subject area about what your film is about, or just getting into theaters. Distribution without question is a huge challenge.

If you could give the film industry one present this holiday season, what would it be?
Sir Ben Kingsley : Courage. Not to go by the consensus, not to be wooed into thinking they know what the public wants but to surprise the public because nobody knows what the public wants. Nobody knows what the public wants. It's a monster, ever-changing all the time. There's no rhyme or reason, and why should there be?
Patricia Clarkson: Money. (laughs) Or scripts that star women 45 and older, lots and lots of scripts! I'd give it money and scripts starring older ladies.
Amy Adams: I think that if I were to give the film industry any gift it would be the gift of humility. I think for whatever struggles there are in the film industry we're very fortunate and especially in this time, this hard economic time, those of us that are working are very fortunate. It's a great job to have and I think it's important for us all to remember that whatever the downfalls are, and that includes the media that we're all very fortunate to be working in fields that we love.
Dennis Hopper: A strike that's over very quickly.
Darren Aronofsky: A good mediator to get [the strike] done.
Evan Rachel Wood: Oh I have no idea! The Wrestler! That is our gift to you, the film industry. Here is this amazing movie. Take it. Enjoy.
Jennifer Esposito: I think they're blessed enough. They don't need any presents. Well, a big hug. I'd give them a big hug.
Gus Van Sant: I don't know, it'd have to be financial, like some sort of financial directive of where to spend the money, and not put it all in one basket. Share the wealth.
Harvey Weinstein: Lower admission prices and lower production costs.
Aasif Mandvi: I would give them the movie I just made: 7 to the Palace.
Michelle Byrd: I'd give every great film that doesn't have distribution, distribution. I'd give them some marketing dollars. I'd give them not even a lot of money, but I'd give them a little money to get through all the noise, to get out and work, and to get them to be seen.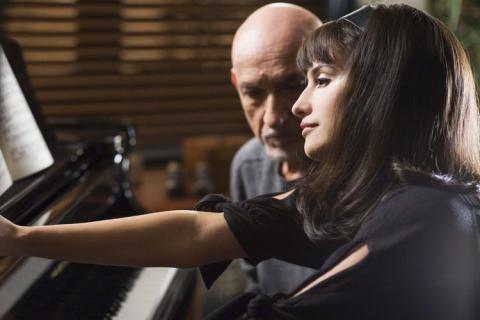 Sir Ben Kingsley and Penelope Cruz in Elegy