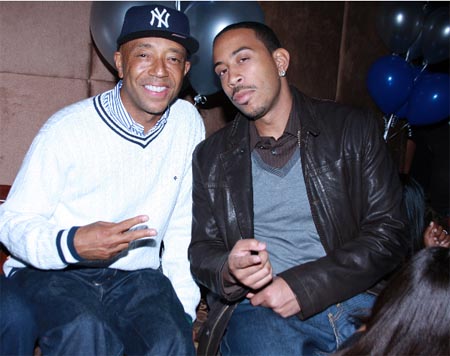 In Oliver Stone's new film W., Barbara Bush credits the media for helping to elect Bill Clinton over her husband's second term. Why thank you, Babs. I'm glad I can do my part! And on that note, I bring you the biggest lesson of W.: "Who would you rather have a drink with?"
It's no coincidence that Stone released his film just a couple of weeks before the election. The script is filled with prophetic messages, from a young Bush being served by a bartender named Freddie Mac, to the constant references to Joe Voter. What's Joe voter going to think? Good to see that today Joe Voter has evolved in to Joe Plumber. Josh Brolin as W. tells Karl Rove (played by Toby Jones) on a park bench in Texas that he's the candidate who is sure to win because he's the one that voters would want to go to a pub and get a drink with.
On that theory, I went out to the first political party I could find to poll an elite crowd: Russell Simmons' launch party for Global Grind (the world according to Hip Hop) in New York City, which was airing the last Presidential debate around the club. Simmons has said that Global Grind is about as partisan as Fox News. So sorry Republicans, while I'd love to be fair and query Stephen Baldwin, Kid Rock, or Heidi and Spencer, you just haven't invited me to any of your parties! And the results are in. So would Americans rather do tequila shots with Obama, or slam an old-fashioned with McCain? Based on Bush's hypothesis, I think the election results are clear. See below.
Dawn Richard of Danity Kane and Making the Band 4:
HP: Who is the candidate in this election that you would most want to sit in a bar and have a beer with?
DR: Oh come on, Hillary! You know what, Michelle is who I would want to have a drink with!
HP: What would you guys talk about?
DR: We'd talk fashion sense and how she reminds me of Jackie O. She's amazing, she's classic, and I think that's it--she might be Jackie O.
HP: What would you say if you sat down with McCain?
DR: Why Sarah Palin? Why did you choose her? In a positive way, because I look at both sides; I never look at anything negative. But why did he choose her? She could be going to the house any time soon, and that's what I want to know because I don't want him to die up there! I'm just kidding. But he is a little old! I'm getting mean.

Brian Andrews & Mike McCluney of Day26 and Making the Band 4
HP: So they say that the President who usually wins is the one you'd most want to drink a beer at a bar with. Who would that person be for you?
Brian: Oh, most definitely Obama! Because McCain would be kind of weird. But Sway from MTV said that he had interviewed Barack. And he said that he was so cool, so laid-back, so down to earth. It was like he was sitting with his uncle. So I mean, who doesn't want to sit with their uncle, you know?
HP: What would you say to McCain if you were sitting with him at a bar?
Michael: Keep yourself together, McCain. Just give me some good real issues that are going on in the world, and stop trying to do a lot of stuff that's already happening. Because it's different--that's what we're begging and pleading for. That's why the world is going the way it's going now, because the past is the way it happened. We want something different and new that's going to make it better. Then he could maybe get a lot more votes.
Brian: Obama! Obama!
Kevin Powell, Politician and Hip-hop Historian
HP: So out of all the candidates, who would you want to just sit down and have a beer with?
KP: It's interesting that you ask that question because I was in Boston in 2004, right on the floor when Barack was giving his first speech, and then he ended up at the after party after he gave the speech; and he was just a really down to earth dude. He's very very successful. And the fact that he can just pick up basketball anywhere; I mean he to me, because of his background, has a unique ability to sit down with any kind of American. How many people can say that? So absolutely I could have a beer with him, and then we can play basketball. And he's a Harvard-trained lawyer so you can have an intellectual conversation with him. But the fact that he's on the cover of Vibe magazine, and wrote an open letter to Vibe readers--he can talk about hip hop, he can talk about black culture. That says a lot about his own internalized diversity.
DJ Skribble
HP: Which candidate would you like to sit down and have a drink with?
DS: I'd probably like to sit down and have a shot of Patron with Obama. I'm not going to lie.
HP: Not Palin?
DS: Palin? You know, I'd like to sit down with all four of them actually. I'm an undecided voter. I haven't yet decided what I'm going to do.
HP: What's the one issue that would determine your vote?
DS: The economy. Whoever is going to get this country out of the mess that we're in, I'm all for them. I don't care, man, woman, child, whatever.
Navarrow Wright, CEO of GlobalGrind.com
HP: In W., the movie, they said the president is usually someone you can sit down at a bar and have a beer with. Who would you want to sit down and have a beer with?
NW: I'm hoping Barack comes tonight after the debate! Hey, we already told him he can come, so yeah he's that guy.
HP: If you sat down with McCain, what would you tell him?
NW: I'd tell him to step aside and let my man do his business.
Russell Simmons
HP: Who would you want to have a beer with out of the four politicians?
RS: Well I'm a vegan, and I don't drink. If I were to have some green juice with someone though, I'd pick Obama. Besides the site being non-partisan, I'm voting for Obama. I'm an independent, but I'm voting for Obama.
HP: Well what would happen if you sat down for some green juice with McCain? What would you talk about?
RS: I've had a good relationship with Senator McCain before he ran. He helped me when we had issues with censorship. If he's the next president, I'm going to try to get him to do the same thing that I'm going to try to get Senator Obama to do. You know, I can't give up. And really, I think the people will vote for themselves. They will vote for justice themselves. The collective consciousness of our community is a mind of leadership. Their freedom from that karma that comes from their words and their actions is what we have an opinion to express. Other than that, we support their policies.
HP: And what about Palin? Would you want to sit down and have a glass of green juice with her?
RS: I would drink with anybody. I don't drink alcohol, but I'll have a drink with her.
HP: Do you think she was a mistake for McCain's race?
RS: If I were in his feet, I wouldn't have chosen her.
Who would you rather have a drink with? Let us know below!

SUBSCRIBE TO & FOLLOW ENTERTAINMENT
Get top stories and blog posts emailed to me each day. Newsletters may offer personalized content or advertisements. Learn more