They've got a whistle famous the world over. Peter, Bjorn and John broke onto the music scene with their third album Writer's Block in 2006. Led by their hit "Young Folks," the pop Swedish trio became a staple in the indie scene. The band, which has now been together for ten years, is back and bigger than ever with their fifth album, Living Thing, which releases on March 31st.
Last week, the band performed an exclusive set in New York City, part of the W Hotel's Wonderlust Live tour. The series, presented by producer Bryan Michael Cox, and sponsored by Sony BMG and Mastercard, will be documented at each stop by legendary photographer Mick Rock.
They played 90% of songs from the new album to a ballroom full of fans, and finished the night with a special performance of "Young Folks." With three upcoming tours, we can tell they're going to be the soundtrack for many an upcoming dance party. It's good old-fashioned, drink champagne, clap your hands, stomp your feet, get down and dance pop. The band proves once again they're a master of indie samplers. Their new single, "Nothing to Worry About," which Kanye West premiered on his blog, has a surreal childlike chorus backing the head-bopping hit.
Living Thing is a staple record for the spring because it doesn't take itself too seriously. It's able to incorporate the fun Swedish undertones of their old work, but is also something entirely new. We spoke to the band before the show to find out just what is behind the new album. Read on to find out why they're obsessed with Iggy Pop trivia, how Kanye discovered them, and why uptempo slow songs are the greatest thing since sliced bread.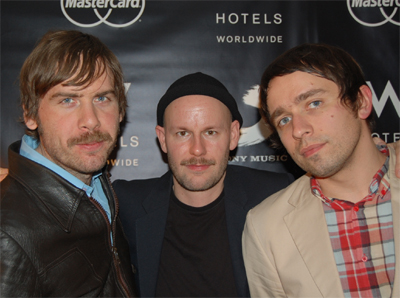 HP: So your single "Young Folks" really became a part of American pop culture. Kanye West sampled the song, it was in the film 21, and it became the theme for New York in the very first episode of Gossip Girl. What was that like?
Peter: I haven't thought about that. I actually haven't seen a lot of those TV series or movies. I think it's good for Gossip Girl because they have it in the intro and it kind of sets the tone for the whole New York experience. We never wrote the song like a New York theme, but you know, whatever. Whatever goes. I mean that song definitely made us spend more time in New York, so I guess it fits well.
HP: Do you consider yourself an international band?
Peter: We are all over the place at the moment. We used to just play Swedish pizzerias and Norwegian backyards. But something happened, and now we're all over the place.
Now it's hard to pick where to go. Because we can go everywhere, and we like to go places, but we also want to stay alive. We've got a thing for the UK of course, because it was where we were first received in the media and stuff. We thought it would be like playing for 30 years and we thought it would be like a mojo, old times things, but then the media was craving us, and that was kind of funny. And then of course New York and L.A. is a huge thing for us because there's a lot of people here we like.
Bjorn: We live in Stockholm still. It's a beautiful place. It's good to travel though, because we play a lot more shows now every year, and it makes us a better band.
HP: Was there a moment when you knew that you made it and could quit your day jobs?
Peter: Yeah that happened with the 3rd album, with "Young Folks." It was kind of difficult to know when though to actually stop work though. I had just gone back to university before that to become a librarian. I remember wondering what would happen in the upcoming year. Before that we were kind of half touring and half working. I'm glad that we got some money so I don't have to be a librarian.
Bjorn: I was producing records, so I've been my own boss since 2001.
HP: How does the music scene compare here to Sweden?
Peter: There's a big difference. We don't have much of a live scene like you do here. People go out for drinks and there's some band in the corner playing. Here, it's more like you go see a band and then you go drinking. That's maybe why we're more in the studio, listening to records. We're kind of intellectual with the rock music in Sweden. We kind of get in to it and learn every Devo song, or know Iggy Pop's dog's name, which is by the way, Iggy Pop.
HP: What were your influences for Living Thing?
Bjorn: Afrika Bambaataa. Yeah, that's it. No, it's so hard to say actually, because we're all over the place, music wise. We listen to everything. Before we drew from the 60s, 70s, stuff we liked when we were kids. But now, maybe, we're taking a lot of stuff from what we listened to when we were a bit older, like preteen, and teen sort of stuff.
HP: Why the venture into dance music?
Bjorn: The last albums were more indie rock. This one is more champagne. The way we made the album was more experimental and less straightforward. But it sounds more pop. So that's kind of funny the way it twists and turns.
HP: How did Kanye West get a hold of the track "Nothing to Worry About"?
Peter: I guess he just likes music. I think someone played him the track. I don't know who. Everyone is always walking the corridors of record labels here in New York. So I think someone heard it and played it for him. His blog is very popular, and he wanted to play it so we said yes.
HP: So the two tracks that have been released, what's the meaning behind them tracks?
Peter: "Lay it Down," the first one that people heard, it was laid down after all the "Young Folks" mayhem. It was like a clear break. This is something new. Shut up, you know. We're a bit more aggressive. Even though that's a sad song too, melancholy, I think that was a good start. And it's a funny video too.
And then "Nothing to Worry About," it's also very different. So that's good to show people that it's different. But then they listen to the album and they think they recognize us.
Bjorn: To us, it's a typical Peter, Bjorn, and John album. It's got all the ingredients of a Peter, Bjorn, and John album, it's just a bit bigger and better, and more expensive. I think it hurts more. It really feels more. It's taking over when you listen to it. But I feel that strongly. It's very intense, the album.
It's also funny with the first song because they're kind of slow to be pop songs. We've never really written such slow songs. Uptempo slow songs, that's the newest thing.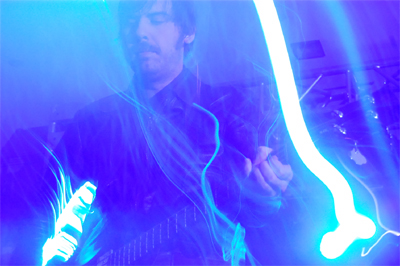 Photos by Krystyna Printup
Peter, Bjorn and John are setting out on a European tour. Then they return for a U.S. tour with Chairlift, and finally head out with Depeche Mode for their summer tour.