Manhattan, L.A., Sydney, Bali ... Hoboken? Yup. The W Hotel luxury empire, with 29 properties around the globe, opened its first New Jersey outpost last week, right across the Hudson from the more glittering borough, a place that already boasts six of Starwood Hotels' luxurious W properties.
Take that, Manhattan. Thursday night's grandiose opening was packed both with proud locals and curious, dolled-up New Yorkers who had ventured across the river. Recession, schmecession: dozens of paid models stood around looking hot, a lounge singer performed atop a piano, and a woman writhed and fawned within a giant martini glass. Guests spun a W "Wonder Wheel" to win W-branded swag, and fireworks filled the Hoboken sky. And when the celebs came out in force, you never know when you'll find yourself in an impromptu, impassioned economics lesson.
Who else came out to love this unloved place? Designer Thom Filicia, who had recently shot an episode of Queer Eye for the Straight Guy here, expressed his love for Hoboken: "It's a great, charming, cool little extension of the city." (Meaning, needless to say, Manhattan.) "And I think W is going to be a great addition to this ever-growing little annex to New York." The night ended with an intimate performance by Jamie Foxx, decked out in oversized bling, and swarms of Sopranos actors and models (including Tyson Beckford) who swelled the stage to dance.
Why Hoboken? Because, at long last, this place is hot. As former Masters of the Universe increasingly find themselves exiled from Wall Street (and their now-too-pricey Manhattan pads), the search for cheaper real estate increasingly leads to the birthplace of baseball and Sinatra. And the W was poised to provide the wounded financial profession a sumptuous safe haven, just 10 minutes by light rail from lower Manhattan. Given a hotel brand associated with early-morning champagne flowing at its Fashion Week tents and music sets played in intimate ballrooms, no wonder the W Hoboken's 40 condos have already sold out. Compared with Manhattan, Hoboken's got lower taxes, cheaper dining, and a far superior view: people who live here don't have to look at New Jersey.
While the Hoboken hotel's yacht-and private-jet-booking concierge services betray a property conceived in a more freewheeling economic climate, Starwood's still optimistically planning 28 additions to its empire in hotspots like Milan, Barcelona, Paris, Santiago, Shanghai, and Dubai. The Hoboken property suggests a certainty that consumers and companies will soon pay for travel retreats -- and, with room rates starting at $189, what better way to publicize thrift than a retreat in New Jersey?
Here's one way: Corner Shannen Doherty, turn on a video camera, and ask her about the recession. Doherty, once known as Brenda Walsh on Beverly Hills 90210, had never trekked to Hoboken but found it "quaint and clean and amazing." Long an outspoken Republican, Doherty told me that the recession has a simple solution in Reaganism. "This goes down to why I supported Ronald Reagan, with the trickle-down theory," she said. (Not that she was old enough to vote for him.) "It's a really simple process. The more money that people make, the more people they can employ, the more jobs that are out there, the less unemployment that you have." Reasonable minds can disagree; Nobel-winning economist Paul Krugman has called the Reagan Era "a one-hit wonder" that enlarged the gulf between the rich and poor. (As far as we know, Krugman, a New Jersey resident, was not at the party.)
When I asked Doherty how much her last great splurge cost, she said $40,000. And something happened that surprised me and seemed to surprise her as well: She got misty on the red carpet. The splurge, she explained, was spent on a last-ditch effort to save her dog, who had died the night before. I felt awful as she tearfully described her dog's costly dialysis treatment. A gaggle of gossip reporters issued a collective "Awww."
To read more, and to watch the exclusive video of Shannen Doherty explaining Reaganomics, go to Walletpop.com.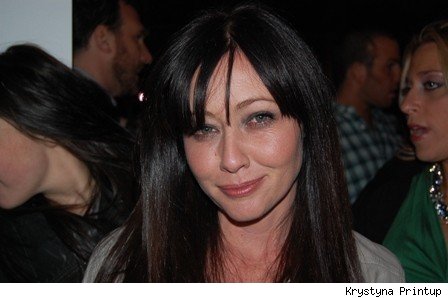 SUBSCRIBE TO & FOLLOW LIFESTYLE
HuffPost Lifestyle is a daily newsletter that will make you happier and healthier — one email at a time. Learn more