Try this short exercise. Off the top of your head, name 10 female directors. Now name 10 lead roles on television for women who don't play the wife or the girlfriend. How about 10 female rolls on TV for women who are "average size"? How'd you do?
There's no doubt it's been an amazing year for female roles in entertainment. Tina Fey's Liz Lemon still harps on having a baby, whether there's a man in the picture or not. January Jones surprised us all on Mad Men, when her perfect Betty housewife kicked Don Draper out of their perfect surburban house for cheating. And as far as Oscar nominations, whether it's the self-absorbed rehabber Anne Hathaway in Rachel Getting Married, or the single mom stripper, Marisa Tomei in The Wrestler, these are not your typical heroines.
But while there are some incredible meaty roles for actresses out there, they're certainly not the majority. Enter WET, or Women's Expressive Theater, a not-for-profit production company that aims to break down the stereotypes of women in entertainment. Founded by Sasha Eden and Victoria Pettibone in 1999, WET develops and produces female-generated content in film, theater, television and education.
Regarding the name WET, "It may seem ironic. It's meant to be," said Eden on the stage Monday night at their annual Love benefit at the Angel Orensanz Foundation. An amazing array of actors including Debra Messing, Blythe Danner, J.D. Williams, Andre Royo, Maulik Pancholy, Alysia Reiner, David Alan Basche, Sabine Singh, Perry Reeves and Emmanuelle Chriqui presented eight short plays all about love. The content of the plays covered a married couple's complications at a sperm bank, one woman's obsession over an Obama campaign volunteer, and a love story between a person, a dog, and a plant.
J.D. Williams, who came out to play the said plant, is no stranger to nontraditional roles, having played the young drug-dealer Body on The Wire, a type of role never before seen on TV. "The biggest challenge for women is really exposure," he says. "What I'm talking about is for there to be a female Steven Spielberg. Or you know, a female George Lucas. They are out there, but they don't get the recognition."
Another former Wire actor, Andre Royo, who brought the role of Bubbles to life on the show, tells us, "A friend of mine was writing a movie, and asking me if I knew any female directors to refer him to. And it took me an hour to think of two. I think that's very sad." With only 15% of women holding powerful behind-the-scenes roles like producer, writer or director in the U.S. industry, it's no surprise that Royo couldn't think of more. A 2007 San Diego Stage study found that female directors accounted for 6% of the industry, down from 11% in 2000. Royo says his daughter wants to be an actress, and it pains him that he holds reservations about encouraging her to enter the profession.
It's no secret that there's a long road for any woman to reach success in showbiz. On what she's most peeved about, Entourage's Emmanuelle Chriqui tells us, "I think we're just sexualized more often than not. Actresses want to act. We don't just want to just be pretty. And it's tough. It always seems like the more you love a project, the tougher it is." Her co-star Perry Reeves says she had the most trouble when she was breaking in to the industry: "I remember when I first started acting, people were like, 'oh you know, they're not going to like you. You're kinda a little egdy. You're kinda, maybe a little smart.'" Reeves is more than thrilled now to transform the traditional wife role as Mrs. Ari Gold.
There is hope when it comes to building female representation in the industry, and that hope begins with organizations like WET. Perhaps to see how far we have to go, we have to look to how far we've come. "I think it's evolved so well since the 60s, when I began," says Blythe Danner. "I see more roles for powerful women and for minority women, in general."
30 Rock's, Maulik Pancholy, believes the solution is representing more real women in entertainment. "It's exciting, because it is happening," he says. "And there are especially great parts for women, and I'm lucky that I get to work with two of the strongest women on television. So I do think it can change."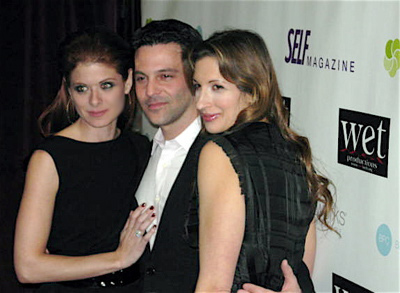 The Starter Wife's Debra Messing, David Alan Basche, and Alysia Reiner