When Antonio Manfredi, director of the Casoria Contemporary Art Museum outside Naples, got a phone call recently, he knew he was being threatened. "A voice on the telephone strongly suggested to me that if I wanted to put on my show about the Camorra [a mafia-type criminal organization operating around Naples], I needed to pay 'security guards,'" he told ARTINFO France. "They call me up and say things that may seem rather strange, but when you live here, you know what they mean."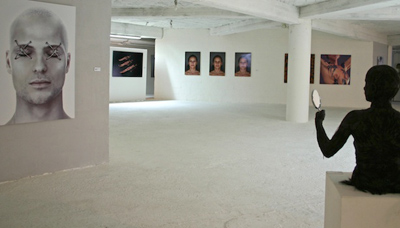 A view of an exhibition at Casoria Contemporary Art Museum / Courtesy Casoria Contemporary Art Museum
Faced with regular intimidation by the mafia and mafia-like groups who are dissatisfied with his exhibitions, Manfredi has taken an unusual tactic: In a letter to German chancellor Angela Merkel, he recently asked for political and cultural asylum for himself and the 1,000 works in his museum.
It is a serious request, and Manfredi has even hung a German flag outside his museum. "It's not a joke or an artistic performance," he said. "It's not a question of money, either, strictly speaking. I've directed this museum for five years without public funds, just with private sponsors." He is afraid of vandalism, and has encountered threatening actions before. "When I organized a show of African art, people hung hundreds of big black dolls near the museum during the night."
He has requested aid from the Italian government to protect his collection, but he doesn't have much hope for an encouraging answer. "Our Italian cultural heritage is massive, and if the government can't even help when Pompeii is collapsing, I don't see how I'm going to get help," he said. "Why not ask Germany or the U.S.?" Yet he also said that if his request is declined he will still keep the museum open in its current location.
Germany remains one of the only European countries to have refrained from cutting its culture budget this year, while Italy has experienced protests over slashed funding for museums and historic sites. The Italian government is planning on cutting €280 million ($380 million) from its cultural budget between 2011 and 2014 -- a huge reduction for a country that has 45 UNESCO heritage sites, more than any other nation in the world.
Farther south, in Sicily, locals have long trod a delicate line between avoiding the mafia's ire and courting the tourism industry generated by the island's ancient history. When the town of Salemi, near Trapani, started construction on a mafia museum last year, arsonists set the building on fire, damaging the entrance door. Vittorio Sgarbi, Salemi's mayor and an art historian for whom the museum is a pet project, blamed "ruffians." Sgarbi has said that he will exhibit live mafiosi in the museum, including the oldest living mafia boss. He already organized a 2009 show by American painter Flavia Mantovan with portraits of 20 famous mafiosi captured by the police.
An anti-mafia museum was launched in 2001 in the town of Corleone of Godfather fame. But museum officials prefer to call it by its official name: the Sicilian Center for Documentation.
FOLLOW HUFFPOST