Damien Hirst is one savvy businessman. His publishing company Other Criteria, devoted to producing affordable limited editions and multiples, announced earlier this week that its Hinde Street store in London would sell a selection of skateboard decks he designed. This isn't the first time the decks, based on Hirst's famous Spin and Spot paintings, have been sold: the 200 on sale in July come from a series Hirst originally designed in 2009 for the skateboard specialist and fashion company Supreme. The difference between the 2009 decks and the 2011 ones? None, except that now they're being sold directly through Hirst's own publishing company for a whole lot more money.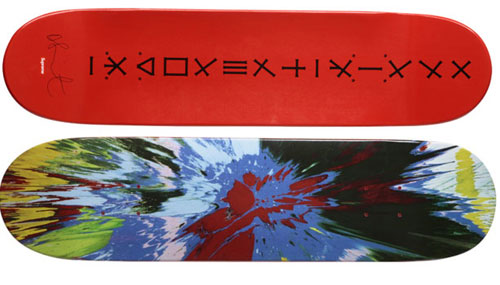 Damien Hirst skateboard decks for Supreme / © Damien Hirst and Other Criteria
The sale reflects a rapidly growing market for the decks, part of a series of collaborations between Supreme and famous artists including Jeff Koons, Richard Prince, and Christopher Wool. It also begs the question: does the high-end sale go against the democratic spirit in which the decks, originally marketed to young skaters alongside art fans, were made?
Hirst's decks famously premiered at Supreme in 2009 to round-the-block lines, with some fans camping out on the sidewalk the night before. The original, graphic skateboard designs sold for under $100. At Other Criteria, however, an edition of 40 decks signed by Hirst and embellished with an original 2011 drawing will run you a cool £1,200 ($1,945). The larger, unsigned edition of 160 will now cost £480 ($778).
If this sounds to you like a blatant moneymaking scheme, you might be right. But it's probably one that has been long in the making. Supreme historically produces its high-end skateboard decks in small editions, which makes them quite the collector's items and has led to a hefty secondary market. In Hirst's case, Supreme produced 500 copies of two different decks (Spin and Spot), plus 100 artist proofs for each. The artist retained the 200 AP decks, now for sale, as part of his original deal with Supreme, according to a rep from Other Criteria.
That the market for these decks has risen radically in the last few years calls attention to their dual identity as utilitarian object and limited edition artwork. In a 2009 interview, Supreme founder James Jebbia noted the difference between the decks' two audiences: "It's actually easier to get the art crowd [rather than the skater crowd], because they'll buy anything if they think they can make money off of it." Indeed, at a Madison Avenue opening at Gagosian Gallery a few years ago, Hirst was spotted signing a long line of gallery goers' skateboards, adding exponentially to their worth with the sweep of his pen.
At auction, decks have recently soared past their pre-sale estimates. In June 2010, a set of three Jeff Koons monkey skate decks were sold at Phillips for $3,500, well over the $1,500 to $2,500 estimate. Takashi Murakami's decks, featuring a bulbous design and sketches of puppies, sold at the same sale for $4,750, almost twice the $2,500 estimate. In March 2010, a set of five Hirst skate decks sold at Phillips for $7,500, way above the $2-3,000 estimate and in line with Other Criteria's current price point.
Why do they perform so well? "As objects, the skate decks are very seductive -- we placed auction estimates based on past results in the marketplace," said Cary Leibowitz, Phillips de Pury & Company's director of contemporary editions. "In the context of our Editions Auction alongside signed and numbered prints and multiples by artists ranging from Picasso to Warhol the skate decks were elevated to another place in the auction world." Leibowitz's observation that "receipts from Other Criteria and the Gagosian Store will be extremely important provenance and documentation down the road" is a testament to their future market potential.
Some, however, might find it unsavory that objects originally created to bring art to new audiences are now turning a profit for the world's richest artist. (The prices also strike an odd chord with Other Criteria's mission to make great quality art "available to everyone.") Jebbia noted in the 2009 interview that profit seemed always on the minds of his art collector customers: "We often get these art people who come in and get really mad when we don't tell them the edition," he said. "It's like, 'Look, it's 68 fuckin' dollars. Don't worry about the edition. If we really wanted to do that, we'd be selling these for a thousand dollars."
-Julia Halperin, ARTINFO
More of Today's News from ARTINFO:
Van Gogh, or No?: Art Historians Shoot Down Dubious New "Discovery" of Theo Van Gogh Portrait
Can the Kunsthalle Detroit Bring the International Avant-Garde to America's Most Blighted City?
Is Italy on the Brink of an Arts Rebellion?
The 20 Greatest Westerns: A List to Get Ornery About
Jean Paul Gaultier Exhibition Displays the Designer's Fashionable Provocations in Montreal
Like what you see? Sign up for ARTINFO's daily newsletter to get the latest on the market, emerging artists, auctions, galleries, museums, and more.