Much has been written about the transformation of Emmy-award winning actor Bryan Cranston's tormented character Walter White from the hit show "Breaking Bad," but now the Museum of the Moving Image is looking at the aesthetics of the show's protagonist, in the recently opened exhibition "From Mr. Chips to Scarface: Walter White's Transformation in 'Breaking Bad'," on view through October 27th.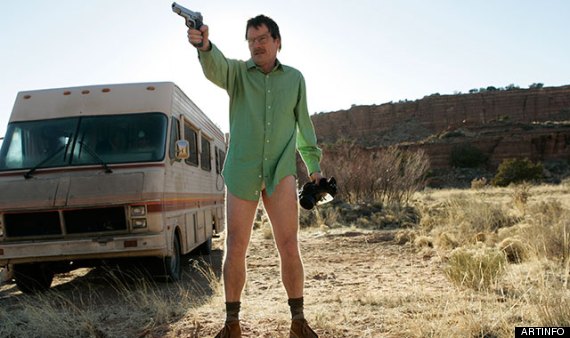 Walter White (Bryan Cranston) in AMC's Breaking Bad. The white briefs worn by Cranston in this scene will be part of the Museum exhibit, on view July 26-August 26, 2013.
At the heart of the show are the costumes and props used by the actors that have become synonymous with the iconic characters. Included are Walter's yellow Oxford shirt, matching Khaki pants, and jacket; the yellow hazmat suits worn by him and his partner-in-crime Jesse Pinkman (Aaron Paul); and the black hat, pants, and jacket as well as green shirt he wears while posing as his meth-king alter ego Heisenberg. The exhibition's curator, Barbara Miller, mentions in the show's press release the importance of including "shifts in costume color palette and a series of symbolic props" that are visual keys to the character's changes.
What can we deduce just by looking at Walter's color choices? The series begins with the demure, shy chemistry teacher who has just found out he has inoperable lung cancer and wears a daily uniform of yellow and khaki -- safe choices. While making the illegal substance that drives White towards his destiny as Heisenberg, he wears a yellow hazmat suit -- probably because he's most comfortable in his own element while in the lab. The methamphetamine ("crystal meth") that earns him a spot as a drug kingpin is so pure that its color is actually blue. And as Walter nears a more permanent transition to the aggressive, proud, and violent Heisenberg, he most notably wears green -- a combination of yellow and blue. Perhaps a metaphoric chemical fusion of the substance that has forced him out of his emotional shell and into a life of crime, and the motivation to leave something behind for his family has occurred, transitioning him into the eerily green-hued palette of Heisenberg. The visual clues laid out in the exhibition -- and the upcoming final episodes -- will give us our answers.
SUBSCRIBE AND FOLLOW
Get top stories and blog posts emailed to me each day. Newsletters may offer personalized content or advertisements.
Learn more