A long-lost Leonardo Da Vinci mural, famed and copied by those who saw it before it was lost in the 16th century, may finally be found -- that is, if contemporary technology can find a way to confirm the painting's location without destroying the Giorgio Vasari fresco that has supposedly been covering it for centuries, reports the New York Times. In this plot, far better than any Dan Brown novel, an art historian, a freelance photographer, and an aging nuclear scientist work against Florentine bureaucracy, Renaissance politics, and the tide of history to rescue a forgotten masterpiece.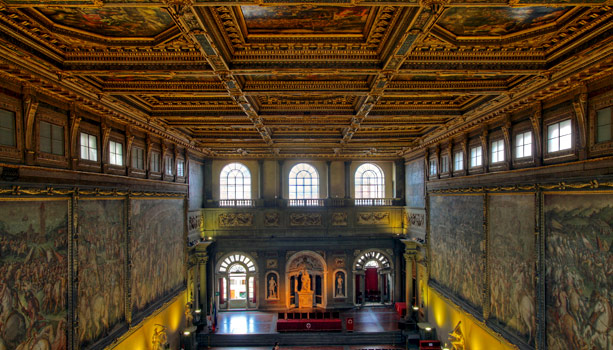 Could there be a hidden Da Vinci lying behind one of Palazzo Vecchio's many Vasari frescos? / Courtesy of Wikimedia Commons
Maurizio Seracini, a Florentine art historian and the director of the University of California's Center of Interdisciplinary Science for Art, Architecture, and Archaeology, believes that Da Vinci's once-famous 1505 "The Battle of Anghiari" mural was covered up by another fresco by Vasari (commissioned by the Medici family) in 1563. The art historian contends that Vasari covered Da Vinci's work with a brick wall, then "painted his own fresco on top."
That's where David Yoder comes in. As a photojournalist working on Seracini's story, he decided he might try to photograph the painting -- while it was still behind the wall. Yoder found his way to Robert Smither, a senior nuclear physicist whose technological wizardry the photographer thought might be able to enable him to see through the wall to the Leonardo painting. Through funding from National Geographic and the Florentine government, work on the Anghiari case has progressed and cutting-edge photographic technology has been developed, nicknamed the "Gamma Camera" -- and yet there is still more to this tale.
Now, the team has started a Kickstarter fund to raise the $265,000 they need to continue testing their equipment. Currently, the project has raised $14,115 with 41 days to go. It could be tough going for the remaining $250,000 -- but then again, can there be many projects with a story this good? At long last, the "Battle of Anghiari" mystery would be cracked -- though no one really knows whether the 500-year-old Leonardo has survived, and even if it has, there is still the little matter of that ill-placed Vasari fresco to work around. Yet maybe Vasari would appreciate being sacrificed for art history; he is known as the first art historians, after all.
To see the team's amazing Kickstarter pitch, click on the video below:

-Kyle Chayka, ARTINFO
More of Today's News from ARTINFO:
Where Will the McQueen Show Go Next? Handicapping the 5 London Museums Fighting for "Savage Beauty"
How the 7 Train Extension Will Birth the Great NYC Art Odyssey of 2015
Wipeout!: Denim Company Must Pay Photographer $100,000 For Appropriating Sexy Surfer Pic
Gala Opening: Lancel Launches Dalí Handbag Line With a Show of Rare Photos of the Surrealist and His Wife
Paris Tableau Spices Up the Old Masters Market With an Assist From Jeff Koons's Bodacious Art Collection
Like what you see? Sign up for ARTINFO's daily newsletter to get the latest on the market, emerging artists, auctions, galleries, museums, and more.
SUBSCRIBE TO & FOLLOW CULTURE SHIFT
Level up. Read THIS and be the most interesting person at your dinner party. Learn more