THE BLOG
Damien Hirst's Latest (and Greatest?) Scheme: Saving the World Through Eco-Architecture
Can Damien Hirst use his media savvy and sprawling, globe-spanning ambitions -- recently on view in his critically reviled "Spot Painting" show at Gagosian gallery -- for good? The former Young British Artist has just unveiled his newest endeavor: He wants to build 500 eco-friendly houses just outside the town of Ilfracombe, Devon, to serve (in his eyes) as an example for the rest of the nation. Much like his spot paintings, the eco homes are the product of his vision, but the technical specs will be carried out by others, including architect Mike Rundell.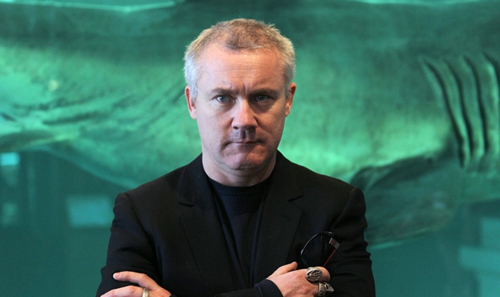 Damien Hirst / AFP
"He wants these houses to be the kind of homes he would want to live in," Rundell announced last week, the Telegraph reports. What does this mean? Sustainable luxury flourishes like rooftop wind turbines, solar panels, and the most technologically advanced methods of insulation. He has made it clear the development wasn't going to be a "retirement home" community, either. "We want these houses to attract young, creative families as well as people who already live here," the architect added. (Likely on the wealthier side, it would seem.)
Hirst has lived just outside Ilfracombe, a seaside resort town (and one-time home of Joan and Jackie Collins) in the South of England, where he already owns a restaurant, studio, and other properties, for several years. The houses would be built on land at Winsham Farm, which Hirst already owns 40 percent of.
As of now, the artist and his team have tentative plans to submit their application by this summer and break ground in early 2013. "If we are committed to doing this as Damien wants it, it will happen," said Rundell. "Damien is a man who gets things done."
-Janelle Zara, BLOUIN ARTINFO
More of Today's News from BLOUIN ARTINFO:
A Preview of the MTA's Ultra-Contemporary Public Art for New York's Second Avenue Subway Line
Meta-Mourning: Were We Truly Grieving Whitney Houston?
Discovering a Different Duchamp: A French Show Spotlights Marcel's Older Brother Jacques Villon
Is Rebooting Alfred Hitchcock's "Rebecca" and "Suspicion" Really a Good Idea?
Fashion Week Q&A: Designer Nicholas Kirkwood Talks About His Shoes

Like what you see? Sign up for ARTINFO's daily newsletter to get the latest on the market, emerging artists, auctions, galleries, museums, and more.