"We are now at a period when the luxury retail store has become a crucial forum for architecture," writes architect Mohsen Mostafavi, dean of Harvard's Graduate School of Architecture. These lines appear in the foreword of "Louis Vuitton Architecture and Interiors," a 304-page tome that stands as a testament to the statement.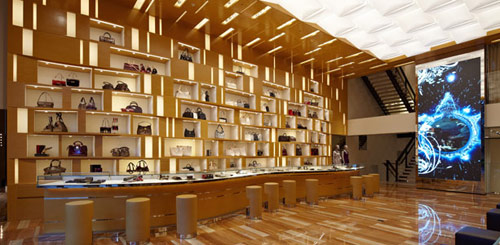 The Bag Bar at Tokyo's Omotesando location by Jun Aoki & Associates with the Louis Vuitton Architecture Department / Photo by Daichi Ano
Set to be released by Rizzoli in October, the book (whose cover is etched with Louis Vuitton's signature floral pattern and wrapped in a paper sleeve like the bow on top of a gift) is a collection of dazzling spreads from Louis Vuitton retail locations around the world, showcasing their bright lights, sumptuous interiors, and strikingly elaborate architecture set in global metropolises. It's complete with renderings and playful inserts that include sketches on actual draft paper and tactile cutouts of the iconic logo.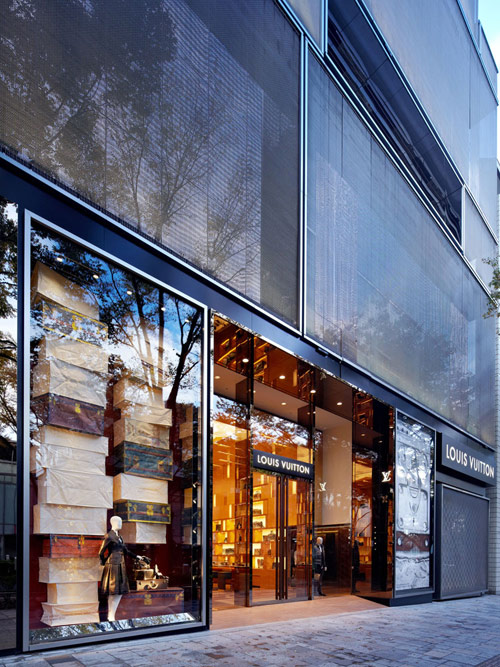 The façade of the Tokyo Omotesando location, designed by Jun Aoki & Associates with the Louis Vuitton Architecture Department / Photo by Daichi Ano
Through essays and interviews by preeminent figures in the architecture world, the book also tells a history of the starchitects and artists who have collaborated with the luxury juggernaut in the past, including those whose designs that were never realized. The pages boast "Your Loss of Senses," Olafur Eliasson's 2006 pitch-black soundproof elevator on Paris's Champs Elysées; models of the bamboo lattice envelope, reminiscent of an Asian eel trap, that Shigeru Ban envisioned for the Osaka, Japan store but never brought to life; and renderings of Zaha Hadid's proposed metal honeycomb-like exterior for the location in Macau.
The book is an illustration of the evolution of Louis Vuitton stores over the past decade and the brand identity that runs like a vein through each store, despite differences in years and locations. A definite highlight of the book is Jun Ayoki's Omotesando, Japan location built in 2002, whose moiré-like exterior of layered glass and steel mesh marked a seminal moment for Louis Vuitton, according to Mostafavi.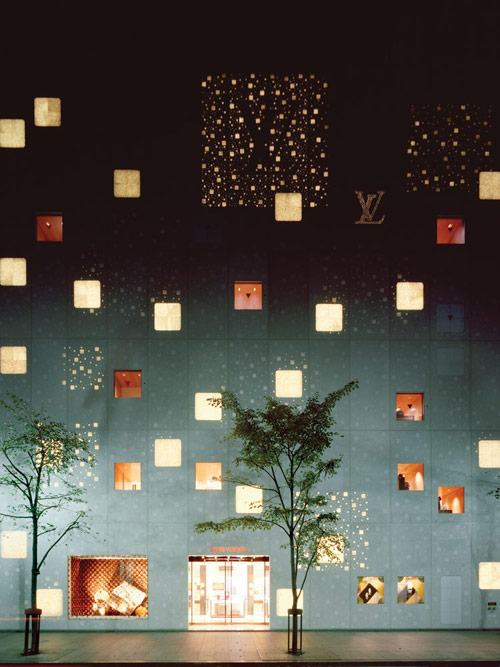 The façade of the Tokyo Namiki Dori location, designed by Jun Aoki & Associates with the Louis Vuitton Architecture Department / Photo by Daichi Ano
"He created a specific architecture which also became a brand identity for LV, which is the idea of buildings or façades that have multiple layers, and that these layers are linked in some way to motif patterns," he told ARTINFO. "Surfaces inspired by LV luggage could actually be interpreted in terms of building skin -- not only as a static building skin, but as a dynamic skin which in many instances is animated by the movement of the passersby. Ayoki's contribution was to create buildings that gave the impression that they were moving, that things changed in them."
-Janelle Zara, ARTINFO

More of Today's News from ARTINFO:
The Blouin Creative Leadership Summit Returns as a Think Tank for Innovation and Global Problem-Solving
See the Extravagant Baubles of "Picasso to Koons: The Artist as Jeweler" at MAD
Argentine Artist Sticks a Massive Extraterrestrial Toothpick Into Paris's Tuileries Gardens
The 7 Top Shows to See This Week, From Lisa Yuskavage to Carsten Nicolai
Was Edgar Degas a Photorealist? New London Show Explores the Technological Side of His Dancers

Like what you see? Sign up for ARTINFO's daily newsletter to get the latest on the market, emerging artists, auctions, galleries, museums, and more.
FOLLOW HUFFPOST