Best known for his innovative, sometimes controversial structures, the award-winning architect David Adjaye has for the last 10 years been photographing all of Africa's capital cities. His extensive archive -- currently on show at the Design Museum, and about to be published as a book -- reveals an organic form of urbanism, one free from the West's reified conventions. Tanzanian-born, London-based Adjaye talks to ARTINFO UK about his grand African tour, its influence on his work, and the transformative power of architecture.
See photos from David Adjaye's robust collection and visit the original Q&A where he discusses his photographic tour of Africa's capital cities on ARTINFO.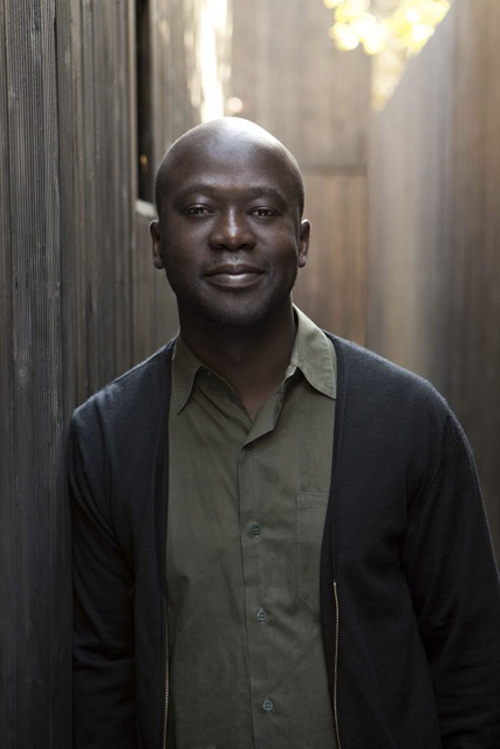 Photo by Ed Reeve
Your exhibition at the Design Museum is subtitled "David Adjaye's Photographic Journey," which suggests that there is something very intimate and personal in this project.
Definitely. The survey is not meant to be objective, or representative of every aspect of urban life in the African capitals. It's an architect's journey, taken through the lens of my observations about places. It's almost a tour, like the ones architects used to do in the 18th century in Europe, when you'd go to Rome and all over Italy to look around and draw what would inspire you. The idea was to make a tour of the continent and to understand the nature, the diversity and the scale of urbanism in all its capital cities.
How did you approach them?
I didn't do any empirical or didactical research, nor did I try to work out everything that I was going to see beforehand. I never went through tourist or governmental infrastructures. I never took a formal guide. I would always negotiate a fee with a local taxi driver and I would spend a few days or a week or whatever it took to understand the city. I asked the taxi drivers to take me to all the parts of the capital they understood and knew.
So there are two subjectivities at play here: yours and the one of the person driving you around.
Correct. The thing about taxi drivers is that they have the best knowledge of the city. Their knowledge is not based on modern aesthetic or promotional criteria, they just know the place as a series of important destinations that the citizens use. What are the key suburbs? Where do the rich live? Where do the poor live? Where is the government? Where are the religious groups?
You ask taxi drivers where something happens in their city and they know. They have to know, because it's their network and their routes, they don't just have a metric of information about the city. This was what was fascinating to me. In Africa, the cities are not formalized in the way they are in the West, there isn't a fantastic subway map or a train map or anything, most of the cities are really about local knowledge. To understand a city you need to be guided by somebody.
The project lasted 10 years, a period which coincides with a real boom in your career. How did it impact on your work? Do you feel that it has influenced some of your designs in the same way that, say, Le Corbusier was influenced by Algerian architecture?
It had a profound effect on the way I think about my work. There were a lot of subconscious connections already happening, but going around the continent made them very conscious. Doing this tour was also taking the pause I needed in order to move to the next phase of my career. It taught me the potential of urbanism as another kind of architecture, on a different scale.
You've decided not to document Mogadishu, the capital of Somalia.
I just can't quite do it. There are probably half a dozen unstable countries on the continent, but there's no other country in Africa where there's an outright war happening at the moment in its core capital city. Mogadishu is the only place -- it's like going to Beirut in the middle of the war. It's really quite hurtful. The city is operating because people still live there, but it's not the city it was meant to be. I've been speaking with a lot of people who lived there in the 1960s and 1970s and I've collected lots of images from that period. It was such an amazing city and to see it like this, with barricades everywhere...
It's as if showing it now wouldn't be showing the real city.
It wouldn't be the city that people remember. It's been 27 years of craziness. I would like to visit the city again when this war finishes, and finish this book. At the moment, I've been using images from the early 1980s to talk about what it was, and the life that was there.
What can be the role of creative architectural design in an area or in a country's development?
When it's good, it absolutely elevates the quality of life of each citizen and it makes a powerful contribution to their sense of what they are capable of doing in their cities and in their communities. A great piece of architecture transforms a place from being completely hopeless to being a place of potential -- that's the sort of architecture I'm interested in. There are certain things I saw that made me realize that architecture can become a motif, or a leitmotif, for people to gather around -- an idea of nationhood, or culture, or Panafricanism, or whatever their identity is. It can become both a monument and a kind of regenerative tool.
See photos from David Adjaye's robust collection and visit the original Q&A where he discusses his photographic tour of Africa's capital cities on ARTINFO.
- Coline Milliard, ARTINFO UK
Like what you see? Visit ARTINFO for arts and culture news, the latest on the art market, emerging artists, auctions, galleries, museums, and more.
Follow ARTINFO on Foursquare: http://foursquare.com/artinfo
SUBSCRIBE TO & FOLLOW CULTURE SHIFT
Level up. Read THIS and be the most interesting person at your dinner party. Learn more