On Monday a rubber-duck sized version of Dutch artist Florentijn Hofman's giant public sculpture "Rubber Duck" -- which is having its U.S. debut in Pittsburgh right now after traveling the globe for six years, setting off an escalating duck dispute in Asia -- arrived in the mail at the ARTINFO offices. It was not packaged in a box or padded envelope, but simply floated in atop of pile of mail with its destination and sender's information tied around its neck. It is also vanilla-scented, for some reason.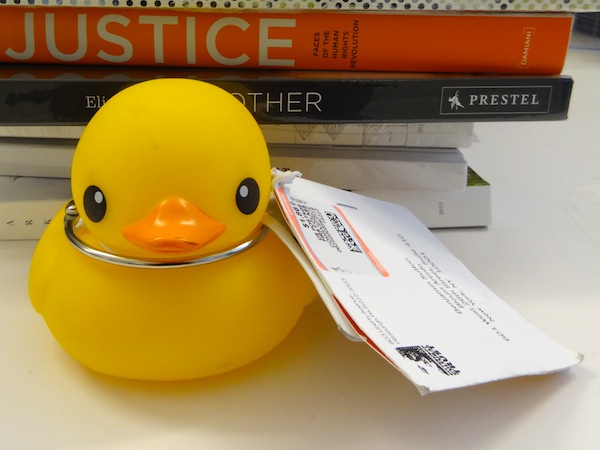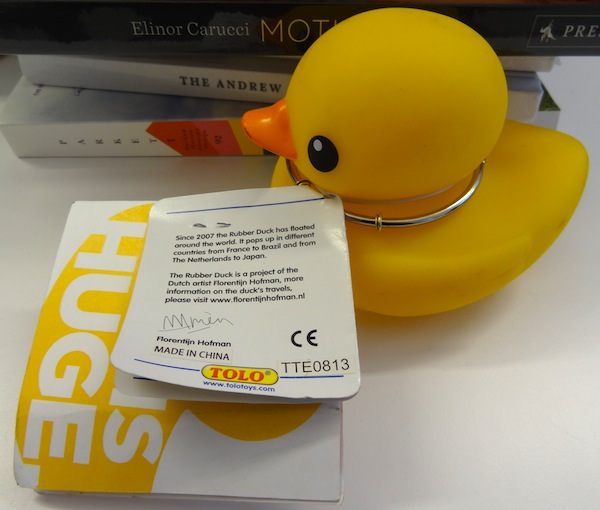 "The Rubber Duck knows no frontiers, it does not discriminate and does not have any political connotations," Hofman says in the tag attached to the floating toy's neck, perhaps in an attempt to allay the fears of Chinese censors. "The friendly, floating Rubber Duck has healing properties: it can relieve mondial tensions as well as define them."
The "Rubber Duck" is on view on the Allegheny river near Pittsburgh's Point State Park as part of the Pittsburgh International Festival of Firsts, and will remain there through October 20. The 40-foot-tall sculpture even has its own Twitter account for the duration of its U.S. debut. In case this post made you envious, the Pittsburgh Cultural Trust is selling "Rubber Duck" replicas for $10.
(Photos by the author.)
-Benjamin Sutton, ARTINFO
Like what you see? Sign up for ARTINFO's daily newsletter to get the latest on the market, emerging artists, auctions, galleries, museums, and more.