The public humiliation of Democratic representative Anthony Weiner has everything: sex, politics, hubris. But most of all, it has hypocrisy. For, in what is an extravagant bit of ironic timing, it was just a few months ago that Weiner was making headlines for denouncing the sexism of a historic Queens sculpture. The name of the artwork? "The Triumph of Civic Virtue." The decayed, 20-foot sculpture by Frederick MacMonnies depicts a monumental male nude, standing atop several female figures, who are allegories of vice. The work has sparked various controversies over the years, because of its presumed misogyny.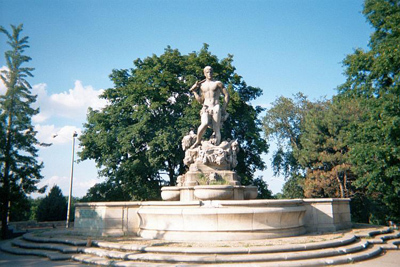 The statue of "The Triumph of Civic Virtue" in Kew Gardens, Queens / Courtesy Kew Gardens History
It might well now stand as an adequate symbol for Weiner's situation over the last week: A larger-than-life, scantily clad male public figure, trying to keep down the images of vice represented by multiple women.
"It's time to get rid of Civic Virtue," Weiner wrote in an open letter to commissioner Edna Wells Handy. "Not the ideal, the statue. It's sexist. It's ugly. It's time for it to go."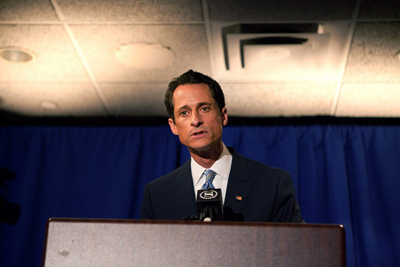 New York Congressman Anthony Weiner/ Courtesy AFP/Getty Images
That was in February. His online interactions with female supporters seem to have gone on throughout this period, so he must have been penning his fiery denunciations of sexism at the same time as he was Facebook stalking his fans. From the first virtual mistress to come forward, 26-year-old Meagan Broussard, we know that he was rather aggressive in initiating a Facebook affair with her, after she had posted the word "Hottttt" on his page (apparently he administers his own page -- a true man of the people!). "It wasn't like I was chasing him, at all," she says.
In the end, whether or not his flirtations ever bordered on harassment, Weiner's seemingly pathological online activity -- how could he not know he would get caught? -- shows a serious lack of respect for at least one women: his wife Huma Abedin, to whom he didn't fully confess until he was absolutely forced by events, according to reports.
As for "The Triumph of Civic Virtue" and its "sexist" symbolism, some people are legitimately uncomfortable with it, and that is worth talking about. But Weiner's grandstanding struck me at the time as a complete waste of time, latching onto a largely symbolic issue, promoting a quick, soundbite take on a work of art rather than a nuanced view. Now he's been thrown into the whirlpool of soundbite culture. Good luck trying to explain the nuances behind that pic of his own crotch.
As part of his campaign against the sculpture, Weiner actually took out a Craigslist ad offering to sell it. This came just after the resignation of Christopher Lee, the Republican representative who stepped down after posting shirtless pics of himself on Craigslist. When asked whether he was aware of the possible association with Lee, Weiner responded, in words that these days have taken on a double meaning, "I'm not a Craigslist kind of guy." I guess now we know what kind of guy he is.
-Ben Davis, ARTINFO
More of Today's News from ARTINFO:
The Great Animal Artists of Our Time: From Thai Elephants to Brooklyn Terriers, the Ascent of Creatures Great and Small in the Art World
How Much Do You Know About the U.K.'s Mysterious "Heavy Pop" Band Wu Lyf?
Hanging Not So Loose: Fans of Street Art "Surfing Madonna" Anguished As California Town Wages Campaign to Move It
Is This Painting of a Young Girl One of Picasso's Earliest Works?
Look Up!: Appreciating the Art in the Atmosphere With "The Cloud Collector's Handbook"
Like what you see? Sign up for ARTINFO's daily newsletter to get the latest on the market, emerging artists, auctions, galleries, museums, and more.
Follow ARTINFO on Twitter: www.twitter.com/artinfodotcom