Looking back on this year's edition of the Coachella Valley Music and Arts Festival -- that three-day extravaganza in Indio, California, which drew to a close on Sunday -- one will perhaps recall Kanye West, riding onstage on a mechanical arm and then bursting into tears during his rendition of "Hey Mama." Or maybe one will recollect the seemingly infinite array of flowing knitwear, oversize sunglasses, and floppy hats sported by "High School Musical" sweetheart Vanessa Hudgens, who spent the weekend cavorting all over the Empire Polo Fields. But while the music and the various bright-eyed, vintage-sporting starlets have remained a constant feature of the festival over the years, one notable change for in the event could be found in the festival's art offerings, which got a tech-savvy update thanks to Intel and Vice.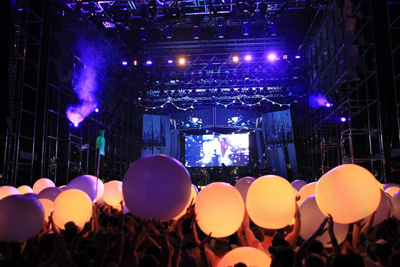 Chris Milk's "Summer Into Dust" LED balloons during Arcade Fire's Coachella set. / Courtesy AFP/Getty Images
While art at the desert affair is usually marked by a DIY, folksy aesthetic -- with sculptures imported from Burning Man for the occasion -- this year the technology giant teamed up with nefarious-activity-loving publication to deploy their Creators Project, showcasing artists and filmmakers who engage with digital technology. The result was a series of art installations around the festival grounds, as well as enlivening main-stage performances with light shows and futuristic effects courtesy of the U.K.'s United Visual Artists.
Perhaps the most popular of these concert-enhancing art collaborations was "Summer Into Dust," for which American director Chris Milk arranged to have white balloons (inside of which L.E.D. lights gently pulsed to the music) fall into the crowd as the Arcade Fire show drew to a close. Another interesting work titled "Under Surveillance," came during the Interpol concert on Saturday: as the New York band performed their song "Lights," a new David Lynch animation ("I Touch a Red Button Man") premiered, creating a multimedia experience that organizers describe as "a visual juxtaposition of the seen and the unseen" in which the "observer becomes the observed" in order to explore "the fine line between the viewer and the voyeur."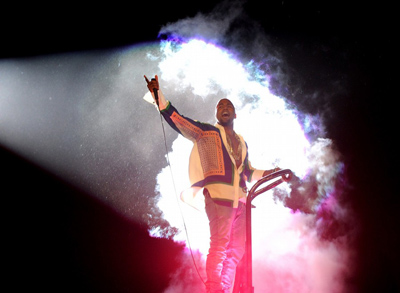 Rapper Kanye West during his headlining set. / Courtesy AFP/Getty
Intel and Vice also organized "Mirage," an installation by Brazilian artist Muti Randolph in the "Sahara Tent" dance hall that was inspired by a São Paulo night club and synced light displays with music. The U.K.'s J. Spaceman (from "space-rock" group Spiritualized) joined forces with filmmaker Johnathan Glazer for an interactive installation described as a "physical manifestation" of the band's track "Ladies and Gentlemen, We Are Floating in Space," which involved a dark tent into which burst five rectangular beams of light.
In the Creators Project Tent, smaller works by Feng Mengbo, Mark Essen, Hojun Song, and Lumpens were on view, including "The Long March," a video game by Feng Mengbo, in which a Red Army soldier wages war against various villains -- aliens and Super Mario among them -- by dispatching them with well-aimed cans of Coca Cola. Aside from the offerings from Intel and Vice, there were of course still works on view that managed to meld more of a Watts Tower aesthetic with the light-and-laser-filled vibe. "Fledgling," for instance, was a metal sculpture composed of bicycle cranks, chains, gears, and other parts, which flapped its wings when festivalgoers hopped aboard and turned its pedals.
SUBSCRIBE TO & FOLLOW CULTURE SHIFT
Every Friday, HuffPost's Culture Shift newsletter helps you figure out which books you should read, art you should check out, movies you should watch and music should listen to. Learn more