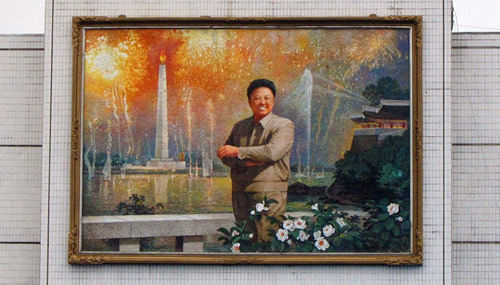 A majestic mural of Kim Jong Il adorns the side of Mansudae Art Studio in Pyongyang, North Korea / Courtesy of John Pavelka via Flickr
Seoul police have arrested a South Korean woman living in China on charges of smuggling artwork out of North Korea and selling the work in South Korea, reports the Korean Yonhap News Agency. The 46-year-old woman, surnamed Kim, stands accused of secreting over 1,300 paintings out of the tightly sealed communist North via international mail and personal trips, in violation of laws prohibiting the flow of goods between the two countries.
The plot involved Kim's North Korean husband, who is thought to have used his membership in an "expatriate's support committee" to secure access to the paintings. The illicit collection included big-name artists affiliated with North Korea's Mansudae Art Studio, a government-run operation that employs 1,000 artists in creating paintings, woodcuts, drawings, and embroidery, among other formats, and sells them abroad through a designated company as a means of accessing foreign currency.
In order to secure the deal, Kim arranged for half of the sale profits to go back to the artists, as well as paying an 8,000 won annual fee. The works were sold over the Internet and to galleries in Incheon, Daejeon, and Gwangju for "prices ranging from 30,000 to 1 million won," Yonhap News notes (that would be $28 to a little more than $900). Essentially, Kim acted as an illegal art dealer, representing North Korean artists in markets they couldn't reach, then taking a cut of the proceeding sales, just as a Chelsea gallerist might.
Kim is no Larry Gagosian, however -- for all her efforts, she only made $27,943, coming out to an average of just $24.50 per work. Still, the sale of North Korean work abroad by both Kim and the country's government points to a vogue for art from the Hermit Kingdom. With exhibitions of North Korean art traveling from China to Russia and paintings gradually leaking out, North Korean artists might become a hot property in the art world.
FOLLOW HUFFPOST