ARTINFO presents a guide to the most interesting gallery openings in New York each week.
Just about any other year, this week's news cycle would be dominated with talk of the fairs in Basel. However, the entire art world is providing plenty to gossip about this week. People are calling for resignation of Brooklyn Museum director Arnold Lehman, and Thomas Kinkade has been busted on a drunk-driving charge, to name just major items. No matter how crazy things get, though, there's always the chance of making a new discovery in the galleries. Mary Reid Kelley was having her debut in Chelsea not so long ago; now she is on her way to superstardom. The next star may be hiding in plain sight (on Bravo) or showing art as one of this week's gallery picks:
(And don't forget to visit ARTINFO.com for more detailed gallery previews and to see the rest of our New York gallery opening picks.)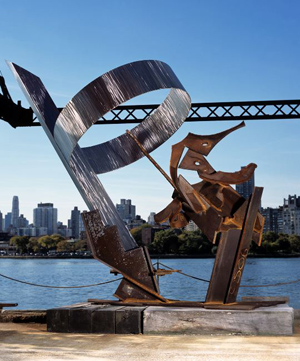 Mark di Suvero
The Morgan Library
Opened Wednesday, June 16
Paula Cooper has a tidy assortment of di Suvero's sculptures -- and a trippy painting -- on view at her Chelsea space, including the carefully balanced, 24-foot-tall New Albion (1964-65). If that weren't enough to merit a second look at the sculpture-garden-pigeonholed master, the Morgan Library is welcoming three of his recent works, made with gritty steels, into their airy, pristine Renzo Piano-designed atrium. (The sculptor and architect are friends.) On Friday evening, the Morgan is also showing two films that document the process of installing di Suvero's tricky works.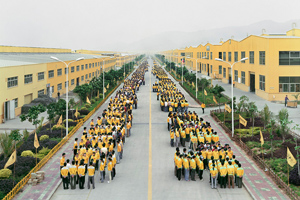 "Video Night," featuring Jennifer Baichwal's Manufactured Landscapes
Hasted Hunt Kraeutler, 537 West 24th Street
Opening Thursday, June 17, 6-8 p.m.
Hasted Hunt Kraeutler is presenting Jennifer Baichwal's documentary about the photographer Edward Burtynsky, whose detailed, oddly beautiful photographs of capitalism's wastelands -- one of his series is titled "Oil" -- look increasingly terrifying, despite our President's best efforts at convincing us that our world's environment has better days ahead of it.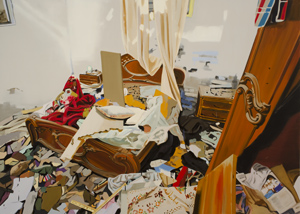 "Heat Wave"
Lombard-Freid Projects, 531 West 26th Street
Opening Thursday, June 17, 6-8 p.m.
This survey features six artists hailing from five far-flung locales. Indonesian Eko Nugroho paints Adult Swim-ready late Gustons (a comparison that never tires, one hopes) with watercolor, while Pakistani Bani Abidi photographs residents of Karachi as they tend to domestic affairs -- ironing and shoe-polishing, for instance -- out on the streets of the city. Israeli Maya Schindler, meanwhile, presents a white fiberglass and vinyl flag. Rounding out the bunch are Fikret Atay, Mounira al Solh, and Noa Charuvi.
Visit ARTINFO.com for art gallery guides and the latest in art news and luxury trends from around the world.
Follow ARTINFO on Foursquare to get more insider tips on New York's art and culture scenes.
Follow ARTINFO on Twitter: www.twitter.com/artinfodotcom