As Occupy Wall Street's art-world spin-offs take to the streets in New York by occupying major museums and gallery spaces, a single South Korean artist is trying to enliven his own country's protest scene with a series of DIY art actions. Meet artist Lim Ok-Sang, the founder of the "One-Man-Demonstration.com" group (not actually a Web site), who is staging absurdist performances to fight political protest fatigue. The impact of Lim's crack protest team? Not much, actually. But immediate efficacy might not be the point.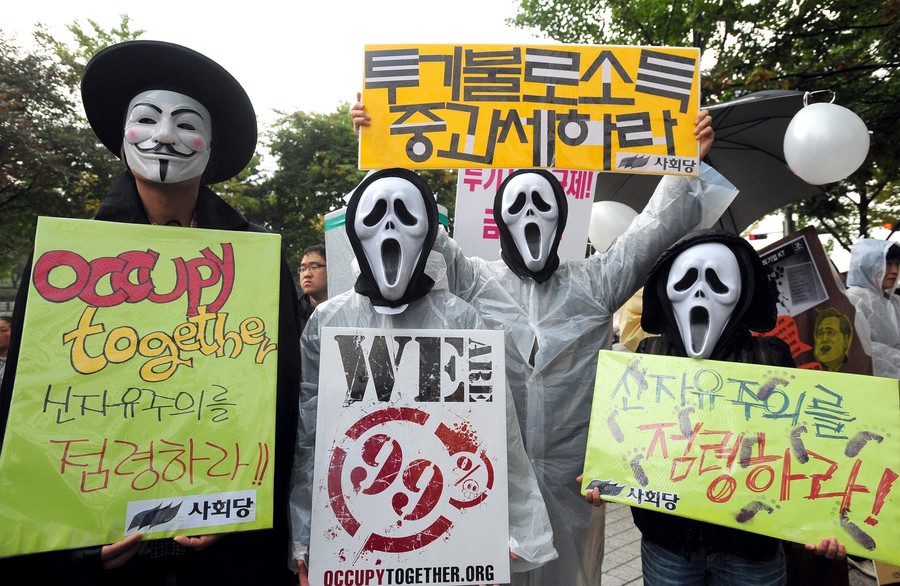 South Korean protesters wearing masks hold up banners during "Occupy Seoul" /Courtesy of AFP/Getty Images
One-Man-Demonstration.com's actions have included dressing up as silver-hued aliens and holding life-size models of politicians with giant tongues (to protest backroom free trade deals between Korea and the U.S.), and performing a handstand to represent how hard it is to subsist on a Korean minimum hourly wage. Another protest, in support of Occupy Wall Street, involved a group member standing in front of the Seoul stock exchange and brandishing a new U.S. dollar with a hole where George Washington's face should be. It's an open movement -- the group will take up any cause submitted via Twitter or Facebook.
The relatively harmless performances aren't having much of an effect on onlookers jaded by more dramatic protests and picketing. But the point isn't really to foment massive social change, or at least not right away. Lim's aim is to get South Koreans to rethink how they protest, moving away from "violence and abusive language" as ways of getting attention toward creating "refined messages." The One-Man protest movement is about using art and creativity as a way to communicate a message in a less aggressive, more positive way.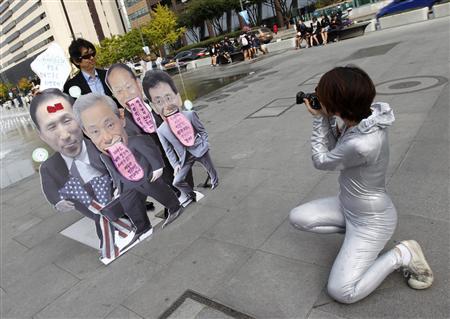 Artist Yang Eun-joo (R), takes pictures of Kookmin University professor Lee Chang-hyun protesting the U.S.-South Korea free trade agreement talks / Courtesy of Reuters
Lim's ideas are part and parcel with the Occupy movement, which has taken hold in South Korea with ongoing protests in Seoul as well and continues to gather hundreds of participants. In New York, actions like the on-going visual-art-based "Occupennial" exhibition, Occupy-compiled poetry anthologies, and the vernacular creativity of protest sign show the possibilities of the independent creativity that One-Man-Demonstration points to. But other recent events, such as the vague, rhetoric-driven Occupy Museums! and the even-less-logical sudden occupation of New York's nonprofit Artists Space, could stand to take a lesson from Lim and dial it back a little.
-Kyle Chayka, ARTINFO

More of Today's News from ARTINFO:
Color Wars: Tiffany & Co. Backs Claim That YSL Ripped Off Louboutin's Signature Red
Six Years, a Scandal, and $681 Million Later, Moscow's Restored Bolshoi Theater Is Ready to Reopen
New York Sales Preview: Impressionist and Modern Art at Sotheby's and Christie's
Van Gogh Museum Says There's "Not Enough Evidence" That the Artist's Death Was Anything But Suicide
The Adventures of Renaissanceman: Leonardo Da Vinci to Be Hero of New Starz Show by "Dark Knight" Screenwriter

Like what you see? Sign up for ARTINFO's daily newsletter to get the latest on the market, emerging artists, auctions, galleries, museums, and more.