Alec Baldwin may be impressed by the Italian government's attitude towards arts funding -- the actor testified on Capitol Hill about its virtues yesterday -- but the board of directors at MAXXI (Rome's Museum of Twenty-First Century Art) is not. In a statement released this week, board president Pio Baldi expressed surprise and disappointment at the culture ministry's rejection of their 2012 budget and subsequent plans to replace the museum's administrators with a government-appointed commissariat.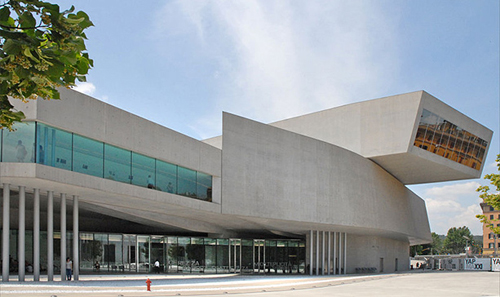 MAXXI, Rome's Museum of Twenty-First Century Art / Courtesy Wikipedia

By Baldi's account, the museum has been performing well and is far more financially independent than its peers in other countries. In 2011, MAXXI's revenue from admissions, sponsorships, and leasing of the museum space totalled €5.6 million ($7.3 million), more than half its budget that year. By way of comparison, last year the Museum of Contemporary Art of Barcelona (MACBA) operated on an annual budget of €12 million ($15.6 million), of which 75 percent is guaranteed by its founding members; and the Pompidou Center outpost in Metz relies on founding members for 90 percent of its operating needs of €10 million ($13 million). Describing the €10 million budget he submitted to the culture ministry as "an indispensable minimum for the museum's activities," Baldi scoffed at the notion that MAXXI was operating beyond reasonable means of sustainability. "The 2011 budget is without holes," he said during a press conference on Friday. "It's wrong of them to confuse the deficit with the needs of the future."
Baldi has so far failed to convince Mario Resca, director general for the enhancement of cultural heritage at the Ministry of Culture, who oversees the management of state museums like MAXXI. Elaborating on the curt, two-sentence statement published on the Ministry's website, Resca told the New York Times he was certain that the museum could do more to stand on its own feet. "The Maxxi has great potential for development and needs to aggregate private sponsors and new institutions," he said. "This just hasn't happened." While some foreigners might praise Italy's approach of direct state funding for the arts, Resca thinks corporate sponsors, lured by tax breaks, may be the real answer for the country's struggling museums. "Italy needs to imitate the situations of other countries," he told the Times, in brazen defiance of Mr. Baldwin's analysis.
More of Today's News from Blouin ARTINFO:
SUBSCRIBE TO & FOLLOW CULTURE SHIFT
Every Friday, HuffPost's Culture Shift newsletter helps you figure out which books you should read, art you should check out, movies you should watch and music should listen to. Learn more