How meteoric is actor James Franco's art career? This meteoric: mere months after having his first solo gallery show at Berlin 's Peres Projects followed by a collaborative display at Gagosian Gallery Beverly Hills the actor-turned-artist is now slated to take part in a parallel project at the Venice Biennale, the world's preeminent art showcase. Because, you know, he had some free time on his hands, notwithstanding his compulsive graduate schooling, his movie career (which led him to co-host the last Oscars), his literary pursuits (the New York Times praised his recent short story collection for its "nihilistic violence and gratuitous gore"), and his performance-art work with Kalup Linzy.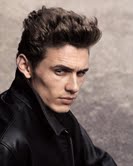 James Franco as James Dean / Courtesy TNT
The Venice project, titled "Rebel," will be curated by Dominic Sidhu -- whose other recent endeavors include a show of art from Darren Aronofsky's "Black Swan" -- and will take the form of a site-specific installation on the island of Certosa, which today is primarily a yachting center. With the assistance of MOCA as a "partnering organization" (which a spokesperson told the Los Angeles Times meant the museum would serve "primarily as a promotional partner") the show will be an homage to the 1955 James Dean movie "Rebel Without a Cause."
According to MOCA, "Rebel" will go about "fracturing the themes and events housed within the original film and reframing them in an unresolved conceptual amalgam." Artists Damon and Paul McCarthy will participate with a film that revisits Franco's role in "James Dean," the hilariously bad 2001 TNT biopic that first brought the lookalike actor to notice. Douglas Gordon, meanwhile, is contributing a multi-channel video on method acting featuring Dennis Hopper's son, Henry, while Harmony Korine offers an updated look of the 1955 film's classic knife-fight scene, with the original brawlers replaced by Franco and a mob of bike-riding women wielding machetes. Apparently Ed Ruscha is also involved in some capacity as a narrator, and Aaron Young will be offering up footage of car and motorcycle crashes.
"Rebel," one might note, is only the latest expression of Franco's abiding obsession with his eerie Old Hollywood doppelganger. For months he has been writing and directing a biopic about openly gay actor Sal Mineo, who played John "Plato" Crawford in "Rebel Without a Cause," and who will be played by Val Lauren in Franco's flick, according to Vanity Fair. There's also an uproarious "Acting with James Franco" Funny or Die sketch, produced by Judd Apatow, in which the renaissance man recreates a "Rebel Without a Cause" scene with his brother, Dave Franco -- at whom he yells, "Of course, of course, I get to be James Dean! Who else is going to be James Dean? You can't play James Dean! I'm James Dean!"
While Franco did resemble a rebellious, moody-but-sensitive Dean character when he recently showed up at Aaron Young's "Built Tough" opening at Bortolami Gallery in New York -- he was all but unrecognizable, actually, slouching against a wall in dark sunglasses, black Yankees cap, black jeans, and a leather-sleeved baseball jacket -- ARTINFO believes that, actually, if you peel off the many layers of the actor, he's much more interesting and complex than a second-rate replica of his object of fixation. In fact, he contains multitudes, like a hunky matryoshka doll. How do we know? Just consider his infinitely receding, self-referential "Collage" play, which the New York Daily News reports had a short run last week at NYU-affiliate, Stella Adler Studio. In it, James Franco narrated a play about James Franco, who in the play is producing a play. The mind reels.
See the preview for Harmony Korine's "Rebel" film with Franco:
And for a trip down memory lane, here's the trailer for the 2001 TNT biopic:
SUBSCRIBE AND FOLLOW
Get top stories and blog posts emailed to me each day. Newsletters may offer personalized content or advertisements.
Learn more