The Whitechapel Gallery is currently hosting the first chapter of "Keeping it Real," a four-part exhibition drawn from Greek art lover Dimitris Daskalopoulos's extensive collection. Curated by the Whitechapel's chief curator Achim Borchard-Hume, it is a public presentation of a collection that reads like a who's who of the contemporary art greats. The first part includes -- besides a version of Duchamp's "Fountain" (1917-1964) -- works by Marina Abramovic, David Hammons, Louise Bourgeois, Sherrie Levine, Sarah Lucas, and Robert Gober. A trustee of the Guggenheim Foundation, and active in the Tate International Council and the New Museum's Leadership Council, Daskalopoulos is, along with Dakis Joannou and Dinos Martinos, one of the most notable Greek contemporary art collectors. He talks to ARTINFO's Coline Milliard about rediscovering his collection, the state of the Greek art scene, and the importance of private initiatives.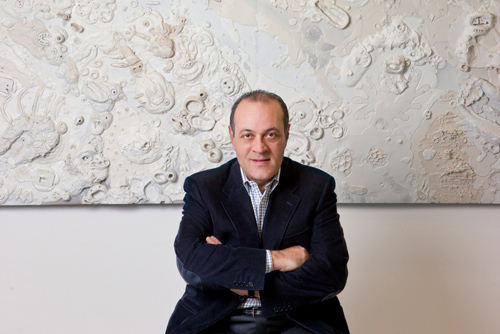 Courtesy Trevor Leighton and APOLLO
There are four chapters in the show, which will be unveiled over the course of a year: The Corporeal, Subversive Abstraction, Current Disturbance, and Material Intelligence. Were you aware of these trends in your collection?
I must say that I was very positively surprised, and that I learned a lot from the curator's approach. It was revealing for me to see that the collection can have many different readings. When Achim Borchardt-Hume's ideas were presented to me and my art team, the team had some reservations about the last chapter, Material Intelligence. They said, "we don't really understand what this is about and how he put these works together." I immediately answered,"I don't know what the theoretical text behind it is, but I know I have put these works in the collection for more or less the same reasons, and I'm really happy that Achim found this common thread."
There are rumors that you are thinking of opening a permanent place to show your collection.
I've always had this vision of exhibiting my collection for the benefit of the Greek public. I've been very busy with my business, and I didn't want to hand this over to someone else, so I egoistically kept the artworks in crates, in the warehouse. But in the last few years, I've put much more energy in planning what I'm going to do here, in Greece. It happened that suddenly the Whitechapel Gallery was interested in showing the collection and that is why it's first showing outside Greece. But I'm now in the middle of shaping the activities I want to do in this country. It's not going to be a Daskalopoulos museum, or a show-off space. I want to have something that interacts with the public and creates interests.
So a different model than Dakis Jouanneau's Deste Foundation...
I didn't mean that. Dakis has contributed tremendously to the art scene in Greece. He is a pioneer, he has done a lot of things for the Greek public, but an additional effort would be very beneficial here.
There is lots of international interest in the Greek art scene at the moment, and it seems to be really coming to a boil: there's the Athens Biennale, the new ReMap art fair, even Gagosian joined in and opened a gallery in Athens last year. How have you experienced those changes?
There's been a lot of activity, but you can see it both ways: a lot is happening, but not that many people have been touched. We should create a critical mass to make people go to art events more, and understand more. We need to have our National Museum of Contemporary Art finally operating -- you know about the problems with the building and the delays -- and, like everybody else in the world, we have to work to make contemporary art more understandable, closer to the younger generation, and to focus on education. I would like to see a long queue outside an exhibition once -- I'm dreaming of that.
The Greek economic downturn may slow down this new energy.
There will be an impact, especially since most of the cultural activities in Greece were state-run or state-funded, and the state's capacity to fund art will decrease. But this an opportunity for private initiatives to do more, and I think that there are a lot of people in Greece who are willing to do that.
- Coline Milliard, ARTINFO UK
FOLLOW HUFFPOST