How young is too young to become an art collector?
The children's art print Web site Little Collector is making a business out of the argument that you can never be too young. "We start with a little talk about hands in pockets, how to act in the group, and just how to be respectful with the art," Chrissy Crawford, the site's founder, told ARTINFO about the upcoming children's tours of NADA New York, which will take place over the coming weekend (the 45-minute tours will be conducted on Saturday, Sunday, and Monday at 2pm). "Then we will take them around and teach them about the different works and different movements in art history," she added.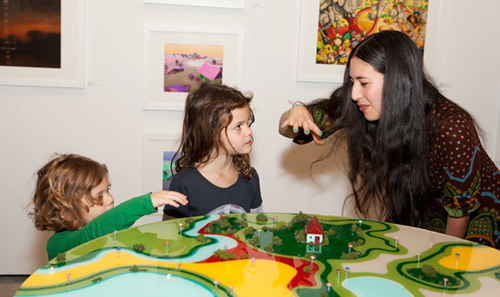 Artist Darlene Charneco teaching at LittleCollector / Courtesy LittleCollector

Little Collector is primarily a print-sales site, and like many of its more adult-focused counterparts it is "committed to inspiring the next generation of art lovers through the presentation of accessible contemporary art." It is different in that by "next generation" it means the generation that has just recently graduated from diapers. As such, it focuses on exposing children to art, from offering them prints of toy cars to art fair tours led by professional art educators.
The NADA tour is the first of its kind for Little Collector. One of the company's art educators, Grace Johnstone, will be leading around 25 children, ages four and up, around the fair for 45 minutes while chatting about art, playing games, sketching, and even giving the budding aesthetes some time to converse with dealers. "The tour will probably incorporate the five senses, ideas about colors, shapes, how colors make us feel, texture, and different materials that will appear in different artworks," said Johnstone, who emphasized that it won't be too much of a lecture.
Why NADA? Well, for one thing, NADA's director Heather Hubbs just had a child of her own, and many of the fair's dealers have kids. Crawford noted that this made many of them receptive to having kids come to the fair. Which galleries do they plan to visit? Crawford said she couldn't be sure until seeing the preview, but had high hopes that some dealers would love the kids.
UPDATE: A previous version of this article stated that the children might visit the booth of Hole Gallery. However, the Hole NYC will not be exhibiting at NADA New York.
-Shane Ferro, BLOUIN ARTINFO
More of Today's News from BLOUIN ARTINFO:
Sinister Parade: Nathalie Djurberg and Hans Berg's Wicked Birds Land at the New Museum
Rising French Art Star Loris Greaud on His Pace Gallery Debut and Playing Hip-Hop for Fish
Q&A: Tony Nominee Rick Elice on Giving Wing to "Peter and the Starcatcher"
When the Maestro Went Missing: A Movie Guesses What Federico Fellini Did While AWOL in L.A.
Baz Luhrmann Will Film an "Impossible Conversation" Between Prada and Schiaparelli for the Met Ball
Like what you see? Sign up for BLOUIN ARTINFO's daily newsletter to get the latest on the market, emerging artists, auctions, galleries, museums, and more.