Marina Abramovic's most recent performance art piece and/or promotional event for the Marina Abramovic Institute's Kickstarter campaign, a flashmob in an Oslo park where she invited the public to join her in some collective screaming as a tribute to Norwegian artist Edvard Munch's iconic work "The Scream," was shut down by police following noise complaints, The Local reports.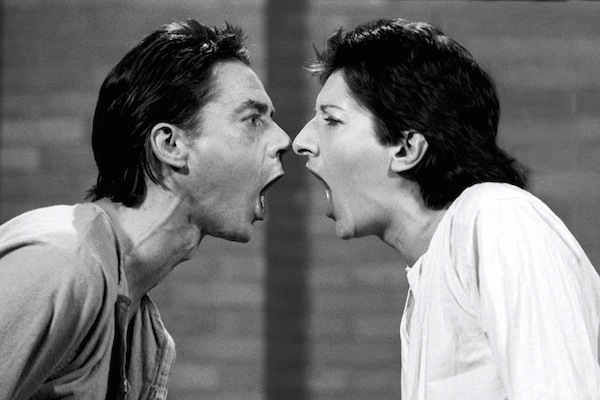 Marina Abramovic and Ulay, "AAA-AAA (performance RTB, Liege)," 1977. Photo © VBK, Wien, 2011.
Responding to a call from the famous performance artist to "release their emotions by screaming," some 300 art-lovers descended on the park in Oslo's Ekeberg neighborhood, where Munch's invaluable artwork was executed. The gathering of Abramovic acolytes, which lasted five nights beginning Thursday, alarmed a few locals, who called Oslo PD.
"We received four or five reports," spokesperson Ola Kroken told Oslo's The Local. "But now it's over."
It's unclear at this time whether or not participants in the Munchian flashmob were employing the "Abramovic method."
-Benjamin Sutton, ARTINFO
Like what you see? Sign up for ARTINFO's daily newsletter to get the latest on the market, emerging artists, auctions, galleries, museums, and more.