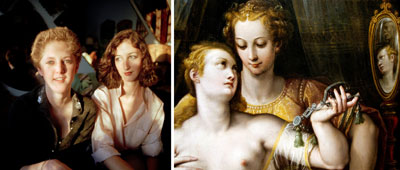 On the left, Goldin's "Kim and Robin, Boston Sisters" and on the right, Jan van der Straet's 1569 painting "Vanity, Moderation (or Modesty), and Death" / Photo © Nan Goldin, courtesy Matthew Marks Gallery
"Everything began with my experience at the Louvre, where the works reminded me of my friends," Goldin told ARTINFO France, adding that, though the word "scopophilia" usually entails "voyeurism," her work is never voyeuristic. "Voyeurism is closing the windows and spying, so my photography has nothing to do with that," she said. Instead, Goldin's images are an open love letter -- "and I am not happy unless my friends love them also."
Goldin's photographs have always reflected a desire to grant immortality to those she loves through her art -- a drive that became even more poignant when she lost many of her subjects to the AIDS crisis. Always a spontaneous artist, in her most famous body of work, titled "The Ballad of Sexual Dependency," she held up a mirror to the life that she and her circle of friends -- including junkies and drag queens -- led in 1980s New York. The extensive series (some of which is currently on view in "Pictures by Women: A History of Modern Photography" at MoMA) contains images that continue to be difficult to look at, such as a picture of a battered Goldin with two black eyes.
In the voice-over that accompanies the images in "Scopophilia," Goldin's monotone delivery is somewhat jarring, and the music by Alain Mahé has some awkward transitions, but the warm light and posed bodies speak eloquently to the viewer. It's an exciting comeback. "People think that my artistic career stopped six years ago. I have isolated myself somewhat from the art world," Goldin told ARTINFO France. While she enjoyed putting together the Louvre show, Goldin doesn't intend to continue with the same kind of highly intimate photography that has become her signature. "I don't want to show my life to the public this way anymore. It's cost me a lot and I don't want anyone to know anything about my life today," she said. The photographer identified Larry Clark, who produced his "Tulsa" body of work in the 1970s, as a "hero" of her early career, but said that her goals now are to make films and to travel.
However, Goldin has not entirely given up on photography. At the invitation of Francis Rambert, she is working on a series of photos in the French suburb of Gennevilliers with Eric Boyet. For this project, she's not focusing on the drugs or violence that such areas of France are often known for. In fact, Goldin says that she really likes what she calls the "Communist suburbs" around Paris. She also has a show of photographs at the Berlinische Galerie that document the period she spent in the German capital between 1984 and 2009. "My life has changed so many times," Goldin said. "But everyone agrees that I profoundly affected contemporary photography. And I'm happy about that."
SUBSCRIBE AND FOLLOW
Get top stories and blog posts emailed to me each day. Newsletters may offer personalized content or advertisements.
Learn more