The Israeli art scene has experienced increasing recognition in recent years, with artists like Michal Rovner, Tamy Ben-Tor, Yael Bartana, and Sigalit Landau (who is representing her country at the Venice Biennale this year) receiving prominent exhibitions around the world. But with the anniversary of Israel's 2008 assault on the Gaza Strip just passed, and as the United Nations considers a resolution condemning the still-rampant settlement push on the West Bank, the country's politics continue to be a raw sore point for many left-leaning members of the art world, some of the above-mentioned artists included. Now, the country's ideological stance and artistic momentum have been yoked together by a pro-Zionist art Web site called Omanoot.com, which optimistically describes itself as "Israel's HULU, Amazon, iTunes, and virtual MOMA all in one."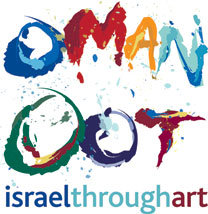 Courtesy Omanoot.com
Launching with preliminary content that includes about 50 documentary and short films, Omanoot is the brainchild of Edoe Cohen, who told Ha'aretz that he was motivated by "a Zionist 2.0 impulse" to found the site. Cohen served six years as military commander in the Israel Defense Force's elite infantry units before getting degrees from Columbia University and the Jewish Theological Seminary in New York. "In the army, I became very connected to Israel and the Jewish people," he says.
Following the negative press Israel received during second intifada -- the long and bloody conflict that began in 2000, claiming the lives of some 1,113 Israelis and 4,166 Palestinians -- Cohen became involved in "hasbara," an evangelistic form of pro-Israel public relations, using arts and culture to promote a positive image of his homeland. This led him to conceive Omanoot as a non-profit educational platform to create lesson plans that would "teach Israel through the arts" (as the site states), funded by private American donors and foundations. This, in turn, has led to the spin-off of the for-profit arts-and-culture Web site, which plans to support itself through selling ads and online art sales. At the moment his staff still consists of 15 volunteers, mostly Anglo immigrants to Israel.
Cohen indicated to Ha'aretz that he wouldn't be showing art that "unduly criticized Israel," though he said he would seek to promote the image of Israel as a tolerant democracy by offering some art that also had a critical angle. Not all of the art will be by Jewish artists, he added.
"A country that's able to support its artists, picking its scars, and putting salt on those scars even, that's healthy," Cohen said. "We're trying to keep a balance."
Sign up for ARTINFO's Daily Arts Digest: www.artinfo.com/newsletter/
Follow ARTINFO on Tumblr: 3rdofmay.tumblr.com/
Follow ARTINFO on Foursquare: foursquare.com/artinfo/