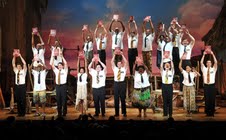 The cast of "The Book of Mormon" on opening night at Eugene O'Neill Theater in New York / Courtesy Getty Images
NEW YORK--With the "The Book of Mormon," the Broadway song-and-dance extravaganza called "possibly the funniest musical ever" by Vogue and "a miracle" by the New York Times, "South Park" creators Trey Parker and Matt Stone have once again proven themselves to be the sharpest pop-satirists of their generation -- as if there was really much doubt. Artist Ron English, on the other hand, is a painter and designer whose brand of "street art"-inspired creations hover on an intellectual level somewhere around "Garbage Pail Kids" stickers and head-shop posters. We're talking Mr. Brainwash territory, and in fact the two are nearly indistinguishable, except for the fact the English has an actual painterly touch. Anyway, English -- whose love of "South Park" is evidenced by the fact that he traveled to the real South Park basin in Colorado to "kill" Kenny by setting the character's effigy aflame -- is now honoring his heroes, and capitalizing on their success, with a show of work referencing their cartoon show's characters.
Dominated by a giant "Last Supper" painting by English that replaces Leonardo's figures with the "South Park" cast (in a clever touch, Towlie subs in for the table cloth), the show includes work by 14 other artists. Running at Opera Gallery through April 10, the exhibition will then travel to Comic-Con in San Diego, augmented by 15 new pieces that will be chosen from submissions by "South Park" fans.
-ARTINFO, ARTINFO
More of Today's News from ARTINFO:
Ai Weiwei's Path From Cultural Prankster to Enemy of the State
Picasso May Visit Palestine With Loan of $7 Million Cubist Painting to the West Bank
Sheikh Abruptly Fires Sharjah Foundation Director Over Controversial Political Work
Activist and "Miral" Actor Juliano Mer Khamis Assassinated in the West Bank
Studio Tracks: Artist Dario Robleto on Being Inspired by Morrissey, Marianne Faithful, and Conor Oberst
Like what you see? Sign up for ARTINFO's daily newsletter to get the latest on the market, emerging artists, auctions, galleries, museums, and more.