With major gallery openings set to hit town next week, everyone is looking for signs of the future. Will big names come up with solid work? Will money flow into New York galleries? If this week's news is any indication, it's going to be a stellar month.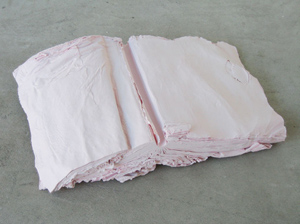 Nathaniel Robinson's "Free Information," 2010 / Courtesy Feature Inc.
Nathaniel Robinson, "Civil Twilight"
Feature Inc., 131 Allen Street
Opening Thursday, September 2, 6-8 p.m.
featureinc.com
Nathaniel Robinson, a Rhode Island-born sculptor who earned his MFA at the School of the Art Institute of Chicago, offers inventive and diverse twists on Post-Minimalist tropes. One black box is topped with two white molds of feet and straws, gum, and cigarettes, while the surface of another is transformed into a cracked and dilapidated sidewalk. Those impressed with his Feature solo debut should book a trip to Brussels, where he will open another show, with the same name, at the TWIG Gallery on September 11, 12-8 p.m.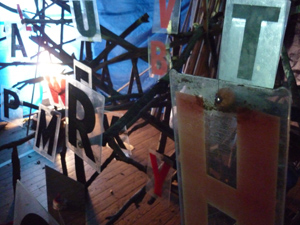 An installation view of "Too Much Past" at Recess / Courtesy Recess
"Too Much Past"
Recess Activities, 41 Grand Street
Thursday, September 2, 6-8 p.m.
recessart.org
Artist-collaborators David Hardy and Siebren Versteeg will toast the end of their two-month residency ("Spirit Tours 11," to use their term) at the estimable Recess Activities with a two-hour party. They promise to "recast ephemera" from events and performances they staged throughout the summer, which included the creation of a water sluice that let intrepid visitors slide down through the gallery to a cushion on the Grand Street sidewalk out front. Judging by reports from the Daily News and Post, it appears to have been a long, strange journey for the duo.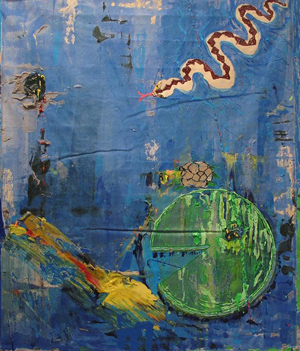 Nicholas Buffon's "Death from Above," 2010 / Courtesy Calicoon Fine Arts
Nicholas Buffon, "Lily Pad Paintings"
Callicoon Fine Arts, 27 Lower Main Street, Callicoon, New York
Opening Saturday, September 4, 5-7 p.m.
photiart.com
This summer, NADA's County Affair lured art fans to the quaint Callicoon Creek Park, right on the border of New York and Pennsylvania along the Delaware River, for a day of fun in the country. Now, local gallery Callicoon Fine Arts is inviting everyone back to the small town (population 3,052), this time to Lower Main Street, to view the work of Nicholas Buffon, a scrappy young MFA student who is painting large, messy canvases with an admirable abandon. His work also graces the front of the current issue of New York music guide Showpaper, which he has covered with controlled bursts and smears of color. It might be a landscape, but it's hard to tell. Arrive by 6 p.m. to catch a special performance.
FOLLOW HUFFPOST