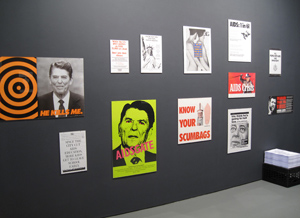 An installation view of "Act Up New York: Activism, Art, and the AIDS Crisis, 1987-1993" at White Columns / Courtesy White Columns
"Act Up New York: Activism, Art, and the AIDS Crisis, 1987-1993"
White Columns
Opening Wednesday, September 8, 6-8 p.m.
whitecolumns.org
Boston ICA curator Helen Molesworth organized one of last year's best season-openers, the reinterpretation of Allan Kaprow's "Yard" that inaugurated Hauser & Wirth's New York outpost. Now she's going for a repeat, teaming with curator Claire Grace to present this exhaustive look at the inexhaustible political-art group ACT UP, a show that first appeared at Harvard. Queer artist collective fierce pussy has been lined up to create a special installation for the lobby of White Columns, and the ACT Up Oral History Project, featuring more than a hundred video interviews with artists and activists, will also be on view.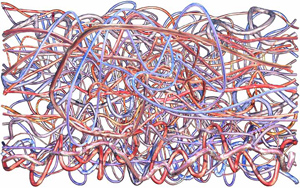 From Jennifer Steinkamp's video installation "Premature" at Lehmann Maupin / Courtesy of the artist and Lehmann Maupin Gallery, New York
Despite their meticulous construction and apparently innocent subject matter, there has always been a dark undertone to Jennifer Steinkamp's sumptuous computer-generated projections. Her last show at Lehmann Maupin, for example, featured depictions of beautiful (but poisonous) flowers. Her newest works are floating, abstract bands possessed with what she terms a "meat-like texture," alluding to bodily processes and death. The name of the series? "Premature."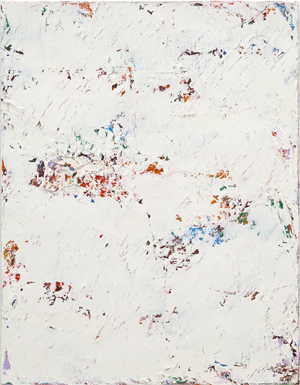 Alex Olson's "Under the Breath," 2010 / Courtesy the artist and Lisa Cooley Gallery, New York
Alex Olson, "As a Verb, As a Noun, In Peach and Silver"
Lisa Cooley Fine Art
Opening Sunday, September 12, 6-8 p.m.
lisa-cooley.com
Like last year, when she opted for a spectacular Jon Pestoni and Zak Prekop double-header, Lisa Cooley is kicking off this season with a show of ambitious abstract painting. The featured painter this time is Alex Olson, a 2008 CalArts grad with an ascendant reputation. The four paintings that ARTINFO has seen pictures of from the show look like they could have been made by four different artists, which is about all one can ask for in these days of one-hit wonders. If nothing else (which we doubt), the show has a superb title.
SUBSCRIBE AND FOLLOW
Get top stories and blog posts emailed to me each day. Newsletters may offer personalized content or advertisements.
Learn more