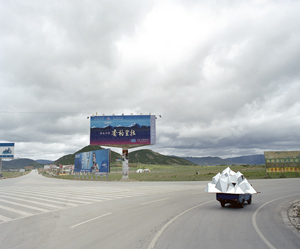 Patty Chang's video "Shangri-La (Mirror Mountain Billboards)" is part of "You can't get there from here but you can get here from there" at apexart / Courtesy of artist
"You can't get there from here but you can get here from there"
apexart, 291 Church Street
Opening Wednesday, September 15
apexart.org
This show, helmed by curator Courtenay Finn, was one of two proposals picked from among 320 applications to grace apexart's TriBeCa gallery. Reading is the theme, as addressed, for example, in Bruce Nauman's 1968 "Slow Angle Walk (Beckett Walk)" video, in which he spent an hour marching about a room, enacting a painfully reductive narrative. Allen Ruppersberg is more generous, represented with drawings of books he owns: When he dies each drawing's owner gets the pictured book. With works by a cast that includes Rodney Graham, Patty Chang, and Sophie Calle, this could be the sleeper hit of the season.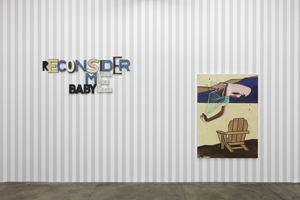 An installation view of "Re-Dressing," at Bortolami Gallery / Courtesy of the artists and Bortolami Gallery, New York
"Re-Dressing"
Bortolami, 510 West 25th Street
Opening Wednesday, September 15
bortolamigallery.com
Bortolami is breaking in its new space with work by 50 artists, a display of curatorial power if every there was one. With bankable behemoths, like Cecily Brown and David Salle (riding his latest comeback wave thanks to a dazzling show of early work at Mary Boone last season), rubbing shoulders with rising forces, like Hanna Liden and Patrick Hill (whose marble sculpture eviscerated the work around it at Gladstone's summer group show), it will be thrilling to see whose pieces hold up. And, of course, there is a political element, for added excitement -- neighboring galleries represent many participants in the show. Will Stefani Bortolami poach a few artists to decorate her new home?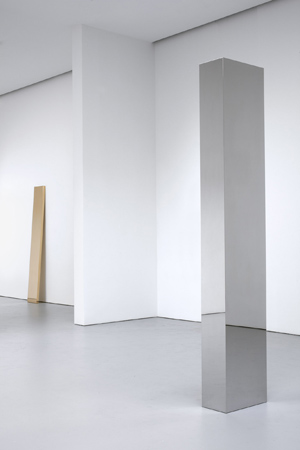 An installation view of John McCracken's "New Works in Bronze and Steel" at David Zwirner / Courtesy the artist and David Zwirner, New York
John McCracken, "New Works in Steel and Bronze"
David Zwirner Gallery, 525 West 19th Street
Opening Thursday, September 16, 6-8 p.m.
davidzwirner.com
"I make kind of noticeably minimal and I think maximal art," John McCracken told an interviewer last year, in what has to be one of the best statements ever made by an artist. "As beautiful as possible," he continued. "I try to make beautiful things because I like to do it." The Santa Fe-based sculptor has delivered irresistible, overwhelming joy to Minimalism's most austere forms for about half a century now, building richly colored monochromic totems and planks with names like "Hotshot" and "Ace." Long a devotee of fiberglass, resin, and plywood, he is now testing bronze for the first time.
SUBSCRIBE TO & FOLLOW CULTURE SHIFT
Every Friday, HuffPost's Culture Shift newsletter helps you figure out which books you should read, art you should check out, movies you should watch and music should listen to. Learn more