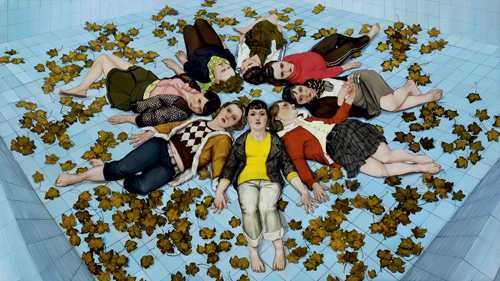 Biljana Djuedjevic's "Synchronized Swimming," 2008 / Courtesy of the Heather and Tony Podesta Collection, Washington
"FAQ Serbia"
Austrian Cultural Forum, 11 East 52nd Street
Opening Wednesday, September 22, 6-8 p.m.
acfny.org
"With Serbia's economy in turnaround, Belgrade's cool factor is on the rise," the New York Times reported last year. It's no surprise, then, that its art scene is similarly ascendant. Belgrade's MOCA has provided most of the work for this show exploring the now-concluded war in Yugoslavia, in which Turner Prize nominee Phil Collins and video master Anri Sala appear alongside less-familiar names like Katarina Zdjelar and Rasa Todosijeviae. After hometown hero Marina Abramovic's triumphant MoMA appearance, the Belgrade artists among the bunch have major expectations to meet at the ACF, which is riding a wave of smart, unusual shows.
Sol LeWitt's works have become such museums staples that it is easy to forget the cold mathematics and obsessive repetition embedded within them, the "kind of mad obstinacy" they seem to demonstrate, to quote art historian Rosalind Krauss. Here's another chance to take a look, in the form of "Wall Drawing 253," built with the instruction "grid and arcs from one corner and midpoints of two adjacent sides, surrounding the corner." LeWitt is joined by Allan McCollum, who mines culture -- the design of a traditional Chinese ginger jar, for example -- for his own repetitious, often sumptuously colored, art.
Mark Barrow
Elizabeth Dee Gallery, 545 West 20th Street
Opening Thursday, September 23, 6-8 p.m.
elizabethdeegallery.com
While the tone of this show's press release is ominous (Barrow works in "postmodernism's vacuous wake," we are told), the paintings in it are anything but. Barrow's wife, Sarah Parke, makes the hand-loomed linen on which he builds faint and strangely soothing abstractions. Quiet, humble takes on Tomma Abts, they trust viewers to puzzle out their own meanings, and pleasure. A 2006 Yale grad who showed at White Columns in 2008, Barrow's jumping through all the right hoops for a very particular art-world career path. Thankfully, he seems to have the work to thrive in that high-wire plane.
FOLLOW HUFFPOST