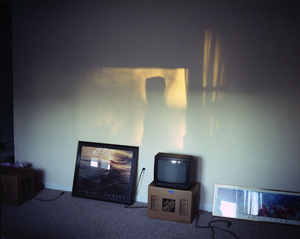 Arts patron Beth Rudin DeWoody, who was feted at the Parrish Art Museum last weekend, curated this 30-plus-artist show of photographs that copy, expand on, or play with iconic images. Par exemple: the subjects in Mickalene Thomas's version of Manet's Le Dejeuner Sur L'Herbe wear clothing with patterns worthy of a Seydou Keita portrait and lend the photo its subtitle: Les Trois Femmes Noires. Elsewhere, Kathy Rudin's Dunkin' Donuts snapshot emulates Eggleston, LaToya Ruby Frazier's self-portait mines Helmut Newton, and Scott Peterman updates Berenice Abbott's Nightview of New York. Terence Koh, typically ambitious, channels Duchamp and Warhol.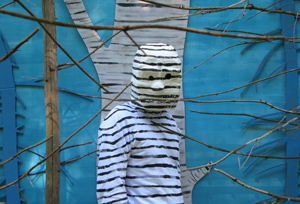 "Gimme Shelter"
Mixed Greens (531 West 26th Street)
Opening Thursday, July 15
mixedgreens.com
It's hard to beat a show with such an illustrious title, which its 17 artists have taken more or less literally. Kevin Cyr builds a shelter from a shopping cart and a tent, while Jonathan Durham documents a service at a mega-church in Texas filled with people looking for spiritual sanctuary. Also on display will be Kate Gilmore's superb Down the House, which involves the theatrical destruction of home, a comedic counterpoint to Eric Heist's tragic images of New Orleans following Hurricane Katrina.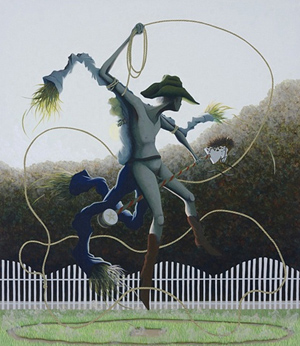 Reviewing MoMA P.S.1's "Greater New York" exhibition, artist Mira Schor recently posited that the art on display showed "little evidence of any trust in the capacity of a singular object or medium to carry meaning." That couldn't be said of the three young artists in this show, who all make figurative works (sans accoutrement), albeit with varying degrees of obfuscation. Japanese artist Niroyuki Nakamura depicts characters from the American heartland -- farmers, cowboys -- with surreal touches, while Krisjanis Katkins-Gorsline obscures her subjects' identities with patches of abstraction. Guy Ben-Ari is the most direct, painting pictures of people looking at pictures: they're feel-good pictures (nothing wrong with that), fashioned with a Katz-ian verve.
FOLLOW HUFFPOST