You can often catch Terry Richardson slinking around NoLIta and his Bowery studio, in his familiar flannel and gaudy aviators. The celebrity photographer doesn't keep a low profile, and with the release of his intimate new book, "MOM & DAD," neither do his subjects: his own parents. The epic two volume set -- one book is dedicated to his mother and the other to his father -- by Morel Books is being published with a tiny print run of just 1,000 copies. ARTINFO managed to snag one and has picked out some of our favorite family snapshots, which reveal as much about Terry as they do about his ma and pa.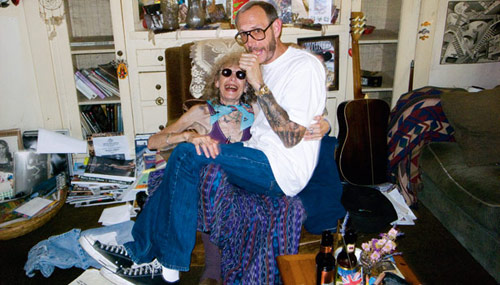 Terry Richardson and his mom / Terry Richardson
Bob Richardson, a notable and influential fashion photographer of the '60s and '70s, poses for Terry with both ease and discomfort. The elder Richardson, whose work has graced the pages of Harper's Bazaar and French, Italian and British Vogue, is pictured at turns as both handsome and confident as well as frail and guarded in Terry's photos. Bob suffered from schizophrenia, and in the book, Terry photographs various fragments of writing his father scrawled on the walls of his house, presenting these as "portraits." The most intimate views of Terry's relationship with Bob are captured in a separate series of written notes Bob made for Terry, one of which reads "I am the only one on this planet who wants nothing from you," and another, attached to an L.A. Times book review of a memoir dealing with the author's struggle with his father's mental illness, which says, "I hope that you are man enough to read this." From Terry's snapshots we get a view of Bob as proud father and troubled genius, all at once.
It is as if Terry shot his father in black and white and then switched to color film for Mom's book, as the tone of this volume is decidedly lighter. Opening with a shot of her offering Terry a rose, the book commences with this smiling and smoking Bohemian lady, who is both missing a few teeth as well as sensation through a portion of her body due to an accident. She comes across here as the same versatile model for her son as she was for his father many years ago. She is not named in the book, and is often simply referred to as "Terry's Mom." Terry's camera invites us into her eclectic and cluttered home where she lives with partner Jackie Lomax in freedom and debauchery. Terry documents his mother constantly puffing away on a cigarette (in one photo he tenderly reaches out from behind the camera to light it for her). Tiny and frail, she is photographed cradling her celebrity son on her lap, and fearlessly flips off the camera in another shot, in which Terry's book, "Terryworld," is visibly leaned against a chair next to her on the floor. Mom is rarely seen without a smile but it is clear that she is close with her son, not even afraid to bare her breasts for the camera -- although this portrait doesn't come off as exploitative, but instead just a portrait of Mom au naturel.
The fact that Terry has separated his collection into two volumes, one for each parent, is a revealing clue as to just how different each world is. While Terry has in some ways followed in his father's footsteps, we are shown how delicate Bob's existence was in his later years compared with his mother's abundant energy, evident in Terry's own photographic work for magazines. When Terry himself appears in front of the camera, as he often does, qualities of both parents' smile are seen in his own (although Bob only really smiles once in the entire volume). Ultimately, we're not sure if "MOM & DAD" makes Richardson himself as vulnerable as it seems to set out to do, but there is certainly a lot learned by flipping through this odd family photo album turned art experiment -- there's no lack of love in this strange bunch.
SUBSCRIBE AND FOLLOW
Get top stories and blog posts emailed to me each day. Newsletters may offer personalized content or advertisements.
Learn more