Walking by 210 11th Avenue in Chelsea, you might see some new names on the list of tenants posted outside the front door: Thom Browne, Stella McCartney, Simon Spurr. Though galleries long dominated this building, they are increasingly being replaced by an influx of fashion designers, marketing firms, and other creative businesses that can better afford the rising rents. And 210 11th Avenue isn't an exception. Over the last two years, ARTINFO has noticed, dealers have been quietly trickling out of multi-tenant buildings in Chelsea, opting instead to deal privately or move to the Lower East Side.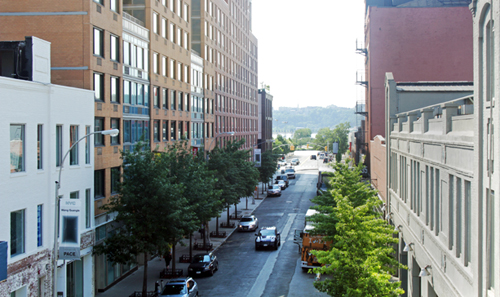 A stretch of multi-tenant buildings on 25th Street in Chelsea, NYC / Photo © Micah Schmidt
In recent months, Robert Mann, Valerie McKenzie, and Marvelli Galleries have all announced plans to move out of their multi-tenant Chelsea buildings, while previous years have seen quiet transitions for Daneyal Mahmood Gallery and Alan Klotz Gallery, both formerly located at 511 W 25th Street who are now dealing privately out of their homes. Still other tenants, including Fotosphere and In Camera Gallery, have shuttered.
The problem with these buildings, dealers say, is that rents are increasingly inversely proportional to foot traffic. "There are so many huge ground floor spaces that people just don't bother to come upstairs anymore," said Valerie McKenzie, who ran her eponymous gallery out of 511 West 25th Street for ten years before leaving the neighborhood to open a gallery at 55 Orchard Street this fall. "That was not always the case. It's the proliferation of so many gigantic ground floor spaces. Unless people are really adventuresome, they just don't wander into the multi-tenanted buildings anymore."
Another cause of the exodus -- at least that out of 511 W 25th Street -- is the frequent change in management. The company Pembrook Capital took over the 195,000-square-foot building in 2010 and then flipped it in February to real estate developer Related Companies for $93 million. During its stint as landlord, Pembrook raised the rent from $35 per square foot to $50 per square foot, and briefly sought to turn the building into a condominium -- a proposal that led a crop of galleries, including Margaret Thatcher Projects and Brenda Taylor Gallery, to leave. "Dealers that are making $1 million a year are not going to buy their unit," Taylor said.
The second shift came after Related took over. It resurveyed a number of spaces and increased what it considered "usable square feet," charging galleries, in some cases, 10 to 15 percent more for spaces than they had paid under Pembrook Capital. Though dealers in the building say the new landlords have become a bit more flexible in negotiations recently, some are still considering a move. "They may be asking market rates, but it's a shock," said dealer Rick Wester, who is in the midst of renegotiating his five-year lease.
Indeed, the situation at 511 West 26th is symptomatic of changes taking place throughout Chelsea. "Rents in Chelsea are going to start escalating," said Wester. "It has to do with the High Line, it has to do with the gentrification of the neighborhood -- I don't think we've seen anything yet in terms of rents rising. Bloomberg's legacy of developing the West Side is going to dramatically put money in the pockets of people who own buildings here."
Not surprisingly, the departure of smaller galleries has come alongside a profusion of megaspaces from blue-chip names. The coming year will see the opening of new Chelsea spaces from Pace Gallery, David Zwirner, Andrea Rosen, and Hauser & Wirth, among others. And of course, there is only so much ground floor space. "I think there's going to be an increased movement of the small to medium size galleries being pushed out," said McKenzie.
Some smaller dealers say they just don't feel they fit in in the neighborhood anymore; the culture has changed too much. "I'm tired of Chelsea," Marvelli Gallery's Marco Marvelli told ARTINFO after announcing his move away from the neighborhood after 10 years there. "I'd been on 25th Street for 10 years, and witnessing the transformation, Chelsea became less interesting to me," said Daneyal Mahmood, who has dealt privately for two years but is considering opening a space in the Lower East Side, which he regards as less "stale" than Chelsea.
"There's something artificial about Chelsea," noted McKenzie. "It was, essentially, created by developers."
More of Today's News from BLOUIN ARTINFO:
SUBSCRIBE TO & FOLLOW CULTURE SHIFT
Every Friday, HuffPost's Culture Shift newsletter helps you figure out which books you should read, art you should check out, movies you should watch and music should listen to. Learn more