In 1990 British photographer Corinne Day snapped some photographs of a then-unknown 16-year-old model named Kate Moss for the seminal British fashion and culture magazine the Face. The black-and-white photographs depicted Moss au natural, freckles and all. Some of the images were topless; others look as if she were wearing no pants. Most notable is the picture that made the cover of the now-defunct magazine -- a close-up of Moss's smiling face, a feathered Native American headdress on her head. That photoshoot became the breakthrough moment for both the model and the photographer, who died in 2010 at 48 after a battle with brain cancer.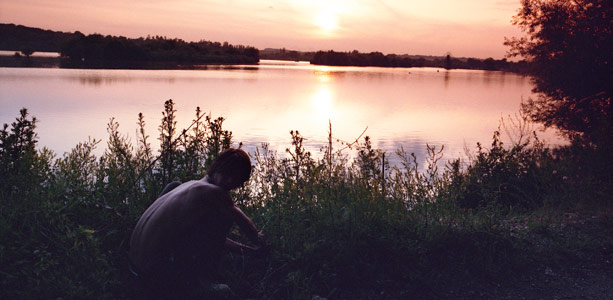 Corinne Day's "England's Dreaming" fashion editorial first published in The Face in August 1993 / Estate of Corinne Day, Courtesy of The Estate of Corinne Day and Gimpel Filsere
Until October 1, London's Gimpel Fils gallery pays homage to the late fashion photographer with the exhibition "Corinne Day: The Face." Day captured the essence of Britain's youth in the early '90s, providing a raw and refreshing anti-fashion perspective. In the show are images from "Heaven Is Real," a 1991 editorial from the Face featuring playful scenes of Moss and model Lorraine Pascale -- displaying the essence of female friendship. Another spread from that year, "Borneo," depicts Moss befriending local children on the island.
Sheryl Garrett, then-editor of the Face, explains how Day's photographs fit in with the magazine's coverage. The magazine "set out a new editorial task of expressing the underground movements of the '90s," said Garrett in a statement. "Acid house, ecstasy, and the massive, rapid rise of rave culture was the magazine's inspiration. It felt like a time for smiling rather than pouting, for bright colors and openness and also for something more natural and real -- which Corinne Day's images tapped into very clearly."
Day's photographs of Moss are so iconic that several are in the permanent collection at London's National Portrait Gallery. To mark the current exhibition, Gimpel Fils, in collaboration with the National Portrait Gallery, has produced new versions of a 2007 portrait commission of Moss by Day, in an edition of 10.
Although the photographer and magazine are now gone, this exhibition serves as a testament of their places in British pop culture.
-Ann Binlot, ARTINFO

More of Today's News from ARTINFO:
The Girl With the Butterfly Tattoo Cover: Dasha Zhukova on Her New Garage Magazine
Get a First Look at the New Clyfford Still Museum in Denver, Designed by Brad Cloepfil
A Stolen Rubens Painting, Missing for a Decade, Resurfaces in Greece
Police Identify Mustachioed Hipster Suspect in Mark Ecko Art Theft
Massive Art Forgery Ring That Fooled Steve Martin Goes on Trial in Germany

Like what you see? Sign up for ARTINFO's daily newsletter to get the latest on the market, emerging artists, auctions, galleries, museums, and more.
SUBSCRIBE TO & FOLLOW CULTURE SHIFT
Level up. Read THIS and be the most interesting person at your dinner party. Learn more