ARTINFO UK sends its picks for the top ten must-see shows in London. Exhibitions in this season range from sprawling retrospectives of greats like painter Alice Neel and Belgian Conceptual master Francis Alys to large-scale surveys focused on Surrealism and bracingly contemporary art, the English capital is filled with choice shows this year. One show (the last on our list) even provides art in the form of a pool, perhaps the ultimate tool of summer relaxation.
For more on the exhibitions, visit the original Top 10 Shows in London on ARTINFO.com.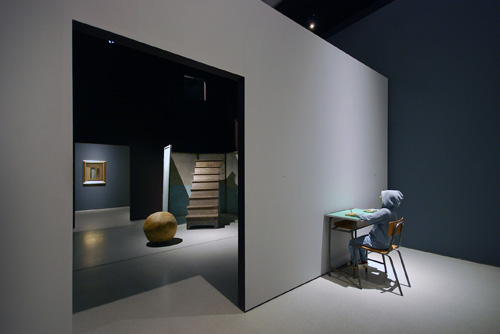 Courtesy Barbican Art Gallery
Wolfgang Tillmans, Serpentine Gallery, Kensington Gardens, through August 29, serpentinegallery.org
The first and only photographer to win the Turner Prize, Wolfgang Tillmans has come a long way from his party boy origins as a documentarian of blissed-out nighttime adventures, morphing into an experimental formalist whose masterful use of color and unexpected form yields pleasures that echo the substances suffusing his earlier work. In this show, the artist's work bounces the eye like a Ping-Pong ball from one surprising image to another, many of them settling through inspection into a composition of considered shapes and angles that would make Henri Cartier-Bresson smile.
"The Surreal House" at the Barbican Art Gallery, Silk Street, through September 12, www.barbican.org.uk
Home is far from being just where you lay your hat -- it's where you project your sense of self, your feelings of security, and your deepest-seated anxieties. This weighted significance of the home is at the heart of the Barbican's highly-praised show, which examines the way that artists have used it in their work, from Ed Kienholz's gothic, shambolic installation encrypting a dead mother to pieces by Louise Bourgeois and the Surrealists that anthropomorphize the space as vulnerable, often naked bodies.
"Alice Neel: Painted Truths" at the Whitechapel Gallery, 77-82 Whitechapel High Street, through September 17, www.whitechapelgallery.org
Coming from the Museum of Fine Arts in Houston, Texas, this retrospective of Neel's portraits is an exhaustive gathering of her loosely painted but psychologically acute portraits of her friends, loved ones, and coevals in the mid-century New York City art scene. Of special note are the artist's painting of Andy Warhol, with the scar from his failed assassination carving up his torso like a sideways grimace (and with the Pop artist's indifferent expression showing him to be a million miles away), and portraits of scholars like Linda Nochlin and Meyer Shapiro.
"Francis Alys: A Story of Deception" at Tate Modern, Bankside, through September 5, www.tate.org.uk
The fuse of the Belgium-born artist's reputation, has been quietly burning for a long time, and now with this show it has exploded -- showing the multitalented, heedlessly mercurial Alys to be among the most intriguing artists of his generation. From literally chasing whirlwinds to famously trudging a block of ice through Mexico City (his hometown) until it dissolved into a puddle at his feet, he has consistently made work that knocks people back on their heels in stammering wonderment. This exhibition is a rare gathering of his encompassing body of work, and therefore a bumper-car tour of the limits of art.
Read ARTINFO's Q&A with Francis Alys about his Tate Modern exhibition.
"The Moon Is an Arrant Thief" at the David Roberts Art Foundation, 111 Great Titchfield Street, through September 18, www.davidrobertsartfoundation.com
As the inaugural "Goldsmiths Project" exhibition, this is the product of an open-call competition hosted by the gallery and the famed (notorious?) art school for a show submitted by a curator or curatorial group in the Goldsmiths curating MFA program. This year's winners were Thom O'Nions, Luiza Teixeira de Freitas, and Oliver Martinez-Kandt, who put together a thought-provoking exploration of any artwork's dual nature as object and idea -- or part and parcel, in the old formulation -- using pieces by artists from American Conceptual pioneers Robert Barry and William Anastasi to younger international talents like Saadane Afif and Kitty Krauss.
"Joseph Cornell Karen Kilimnik" at Spruth Magers, 7A Grafton Street, through August 28, www.spruethmagers.com
The prize for oddest couple on view in any London gallery must go to Joseph Cornell and Karen Kilimnik, whose pairing in this show, curated by art consultant Todd Levin, nonetheless seethes with a strange romance. Arrayed against walls colored a deep blue -- one that recalls Mary's robes in Renaissance paintings, weirdly -- the assemblage boxes of the oracle of Utopia Parkway jive with Kilimnik's paintings of girlish dancers and her own assemblage installations, both bodies of work referencing the classic age of ballet. The pas de deux is a reach, but a productive one (especially for Kilimnik, whose 1990s heyday is less remembered lately).
"Bold Tendencies 4," Hannah Barry, Peckham Multi Storey Car Park, 95a Rye Lane, through September 30, www.hannahbarry.com
Herzog & de Meuron's new garage in Miami isn't the only structure of its kind with art cred, thanks to Hannah Barry gallery's tradition of holding this annual group sculpture show in a multi-tiered car park in Peckham Rye. This year's crop features such emerging artists as George Henry Longly, whose light works look like Dan Flavins that have taken a job a the local hospital, and Alexandre Singh, the motormouth up-and-comer whose cryptic symbologies have been popping up in group shows everywhere this year.
"Picasso: The Mediterranean Years (1945-1962)" at Gagosian Gallery, 6-24 Britannia Street, through August 28, www.gagosian.com
Following up his magisterial late Picasso show at Gagosian in New York last year -- a historic exhibition in both senses of the term, giving hopes to senilescent artists everywhere -- John Richardson has brought together a wealth of work from the artist's postwar years in the South of France, a period when he led the life of the family man with the alter-ego of a deadly swashbuckler, battling the legacies of Velazquez and other greats. Since this was also a period when Richardson, Picasso's biographer, was a frequent houseguest and confidant, the show exudes a rare entre-nous quality, along with a bounty of vibrantly sun-kissed work.
"Howard Hodgkin: Time and Place" at Modern Art Oxford, 30 Pembroke Street, Oxford, through September 5, www.modernartoxford.org.uk
When management consultants of past decades were talking about thinking outside of the box, Howard Hodgkin had already been painting outside of the frame for years -- outside of it, on top of it, and all around it. A revered British artist whose renown has reached foreign shores in only limited measure, the 78-year-old painter's show exhibits him at his customary heights, laying out the colors with the mastery of Matisse even in recent works, in spite of the frail health shared by both artists in their late life. While this show isn't technically in London, it's worth the trip.
Read Judd Tully's piece on Howard Hodgkin's legacy.
"Ernesto Neto: The Edges of the World" at the Hayward Gallery, Southbank Centre, through September 5, www.southbankcentre.co.uk
An artist who works in all the senses, Neto makes environments that call viewers out of their comfort zones -- often into new, unexpected comfort zones. In this new show at the Hayward, he has turned a sprawl of gallery space into an alien pleasurescape, complete with strange pools and passageways to explore. It's a summer escape that will stay with you.
Read ARTINFO's Q&A with Ernesto Neto about the Hayward Gallery exhibition.
For more on the exhibitions, visit the original Top 10 Shows in London on ARTINFO.com.
- ARTINFO UK
Follow ARTINFO on Foursquare: http://foursquare.com/artinfo

Follow ARTINFO on Twitter: www.twitter.com/artinfodotcom