NEW YORK-- When Steve Martin was called onto the "Colbert Report" last December to appraise one of the self-aggrandizing portraits host Stephen Colbert keeps on the set, the comedian and brandy-sipping art connoisseur was not kind. Tabulating the material costs in paper, inkjet toner, and frame, Martin deemed it "a $19 item" -- an estimation that did not improve even after Colbert trotted out Shepard Fairey, Andres Serrano, and the great Frank Stella to embellish the work with a Hitler mustache and other doodles. "I still don't want to buy it," the actor said. "I can still see your face." Yesterday afternoon, when the portrait went under the hammer as the first lot in Phillips de Pury & Company's "Under the Influence" contemporary art auction, a slew of Colbert fans had the chance to differ with Martin's opinion.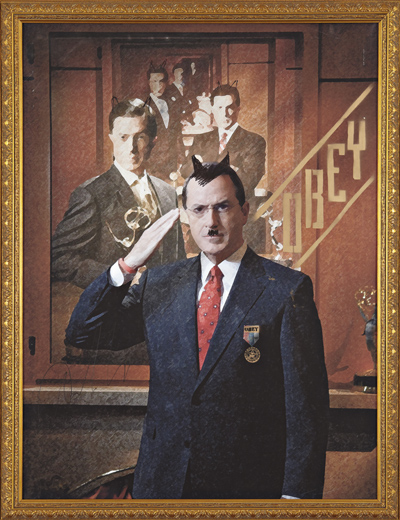 Macel Dzama's "Untitled" sold for $27,500 at the "Under the Influence" auction on Tuesday. / Courtesy Phillips de Pury & Company
Titled "Portrait 5, Stephen(s)" and featuring the host in front of other portraits from past seasons (the number in the title refers to the Colberts visible in this Colbert fractal), it was a canny choice to kick off the sale, which is designed to woo a young, trendy collector class with relatively affordable works by emerging artists. Even cannier on the part of the flashy auction house, however, was the mugging and waving presence of Colbert himself in the salesroom while auctioneer Simon de Pury opened the bidding at a measly $1. The proceeds, it had been made clear, would go to the charity DonorsChoose.org.
The room was filled with pretty people attired in expensive sneakers, couture plaid flannel, and obscure tote bags -- exactly the kind of people who are not in work at 2 p.m. on a Wednesday -- plus a smattering of art consultants. Perhaps suspecting that they were too apathetically cool to bid on the work, Colbert attempted to generate some energy by flitting among the bidders, squatting behind their seats to poke them in the lumbar region, and yelling "higher." By this point, bidding had shot up to $23,000. Colbert then commenced his broadcast-tested fist-pumping jog to the podium, apologizing for "Phil"'s lackluster gavelling -- he apparently thought Simon de Pury's first name was "Phillips," or something -- and taking over the auction himself. "If you're not raising your paddle it means you hate children," he hectored. "I'm insulted! I hate you!" Bidding, clearly, had stalled.
It was then that Colbert began to barter: "It's Mardi Gras; if you throw me beads, I'll show you my tits!" He also offered to Xerox the painting and sell two for double the price, explaining that since the original was "basically made at Kinkos" this would be no problem. Finally, he told the awkwardly laughing crowd that he would personally hang the portrait in the buyer's "private cocaine closet," and that the top bidder could go on his show and give his or her personal interpretation of the work. "Do you see the other stuff they're selling today?" he asked, in a tone of exasperation. "I think Damien Hirst is doing spin art!" (In fact, one of Hirst's 100 spin paintings made for the Aids Community Research Institute of America in 2002 would later on in the auction achieve its high presale estimate of $7,000.)
Finally, Colbert hammered the work at $26,000, and was promptly whisked away by his bodyguard. The room's inhabitants became visibly calmer as de Pury resumed his post, and proudly praised what had transpired as a prime example of "vertical integration."
The rest of the auction was a mixed bag, as usual. The big buyer of the afternoon was rocker Courtney Love, who looked as anticly tousled as ever while bidding from the seats and keeping an eye on her current paramour, British blue-blood and Phillips themed-sales specialist Henry Allsopp, who manned a spot on the phone bank. (At one point Love even sent along a note to Allsopp, who opened it up while dealing with a client on the phone.)
Love first repeatedly raised her paddle to outbid competition for Barbara Kruger's 2001 "Ohne Titel - Evil," a cibachrome print that depicts a laughing woman with "EVIL" written over her face, and eventually won the piece for $56,250, nearly doubling the presale estimate of $20,000-30,000. Love, apparently a Kruger fan, also ferociously bid on the artist's "Ohne Titel - Lust" (2001), which she won for a whopping $92,500 against the same $20,000-30,000 estimate. "I'm happy to see that lust is worth far more than evil," de Pury jibed as he brought down the gavel. (Later, he came over and kissed Love multiple times to drive this point home.)
After the sale, Love could be heard on the phone confessing that she'd gone over her limit, and then declaring that while she was "in trouble," she adored one of the Dash Snow collages on offer and thought Phillip Allen's 2004 "Tedious Plan (Chinne Version)" was "sort of cool," even though she didn't know who he was. She was slightly befuddled when she saw Charles Lutz's 2008 "Double Denied -- Double Brillo" in the catalogue -- which she mistook for a Warhol. ("I was like, what the hell?" she explained into her cellphone. "But they're a different thing.") Love went on to bid on Snow's 2006-2007 "She Stole My Baby," an Andro Wekua collage, and another collage by Jim Lambie, but did not win any of them.
Other notable sales included Elad Lassry's 2007 photo triptych "Travis Parker and Chilean Flamingo," which went for $27,500 on a $10,000-15,000 estimate; Kehinde Wiley's 2009 painting "Fall," which sold for $104,500, exceeding its $70,000 high estimate; a 2004 drawing by Mark Grotjahn, "Untitled (Cream Butterfly)," which went for $104,500, rocketing past its high estimate of $60,000; and a 2010 Anselm Reyle work, which was hammered in for $52,500 on a $30,000 high estimate.
On the truly emerging-artist front, two paintings by Biljana Djurdjevic that were estimated at $2,000-3,000 and $3,000-4,000, respectively, went for for $9,500 and $19,000.
Meanwhile, bidding suggested that the late enfant terrible Dash Snow still exerts a perhaps morbid fascination on collectors. Ryan McGinley's 2000 photograph "Dash Bombing," for instance, sold for $20,000 (est. $6,000-8,000), while a 2009 collage by Snow himself went for $20,000 (est. $10,000-15,000) and his "She Stole My Baby" newspaper-headline collage went for $27,500 (est. $5,000-7,000). His Lower East Side confederate Dan Colen, who has been a hot commodity at Phillips for a while, also still benefits from those years of drug-addled association, with the added gloss of his recent Gagosian affiliation. His 2007 painting "Untitled (Birdshit)" sold for $74,500 (est. $35,000-45,000).
SUBSCRIBE TO & FOLLOW CULTURE SHIFT
Every Friday, HuffPost's Culture Shift newsletter helps you figure out which books you should read, art you should check out, movies you should watch and music should listen to. Learn more