Slate of Top Exhibitions in the West Entering November
Here are the top current exhibitions throughout the Western U.S. as selected by ArtScene and Visual Art Source editors and contributing writers.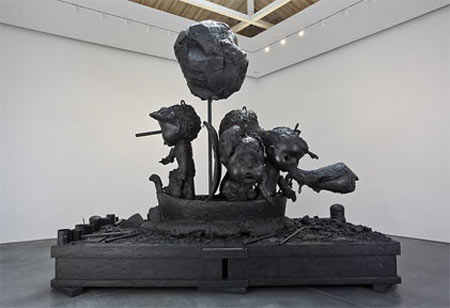 Paul McCarthy, "Ship of Fools, Ship Adrift," 2010, bronze, at L&M Arts. Photo: Joshua White/JWPictures.com
Continuing through November 6, 2010
L&M Arts, Venice, California
This inaugural exhibition at perhaps the major new gallery launch this year is both minimal and maximal. The beautifully proportioned gallery fuses new with old - the brick structure has been modified to include glass corners and skylights. The includes a garden area, allowing for a casual inside/outside relationship, Paul McCarthy takes full advantage of what the spaces can offer, filling the two interior galleries as well as the grassy area.
The sculptures are quintessential McCarthy: in your face, bold and confrontational. "Train, Mechanical" (2003-2010) features a George Bush look-alike mounting a mechanical pig from behind. The work is satirical, and ironic, and because it is mechanized it demonstrates rather than suggests. The other indoor sculpture, "Ship of Fools, Ship Adrift" (2010), is a black bronze that appears to have been dipped in tar. The tableau is of children cast adrift in a decomposing sea. The outdoor work, "Apple Tree Boy, Apple Tree Girl" (2010) has Adam and Eve finding themselves reborn as giant robotic figures who appear to swing on larger than life size trees. If each work is impeccably crafted and seductive to look at on that level, the content debunks myth and politics bluntly and offensively, so be on your toes.
- Jody Zellen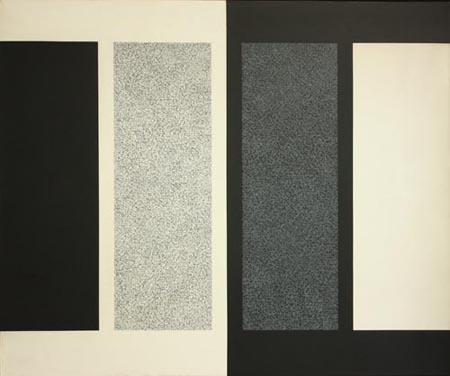 Hilton Brown, "Homage to the Immaculates," 1965, acrylic on canvas, 50 x 60", at David Richard Contemporary.
Continuing through November 13, 2010
David Richard Contemporary, Santa Fe, New Mexico
This ambitious exhibition, "The 1960s Revisited," curated by New York gallerist Gary Snyder with a catalog essay by Los Angeles writer Peter Frank, covers both coasts and everything in between. Its basic premise, that modernism began slipsliding into postmodernism as early as the '60s, is demonstrated through a series of works by "B-grade" artists: that is, artists who are not household names. Nonetheless, their work is of significance when it come to making the very point that this show makes -- anybody and everybody was doing anything and everything abstract, all across these United States, well before the accepted -isms of the 1960s -- Pop and Minimal -- struck their poses upon art history's boards. Nothing, says this show, is as we like to think of it in art, all discretely categorized without collision, or collusion, between movements.
- Kathryn M Davis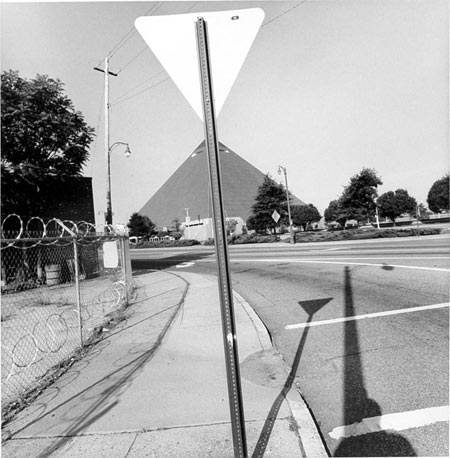 Lee Friedlander, "Memphis," 2003, photograph, at Fraenkel Gallery.
Opening November 4, 2010
Fraenkel Gallery, San Francisco, California

Lee Friedlander is one of the most celebrated American photographers alive today. And for good reason. He's a master of his craft, creating captivating, influential images. When there's the opportunity, then, to view a wide range of his work, one should not hesitate.

This is exactly what you'll find in the exhibition "1960-2010 or How I Got from There to Here in 100 Pictures or Less." The exhibition will feature two images from each year, 1960 to the present, for a total of one hundred black-and-white images spanning the artist's entire career.
- Cherie Louise Turner

Michael Goldberg, "Untitled," 1951/2, oil on canvas, 57 x 50 1/4", at CSU Long Beach, University Art Museum.
Continuing through December 12, 20109
University Art Museum, CSU Long Beach, Long Beach, California
Manny Silverman Gallery, West Hollywood, California
Wandering through the museum survey - surrounded by 30 paintings composed from layer upon layer of crisp, rapid brushstrokes and overlapping colors that slash across the canvas - it's obvious why "Perpetual Motion" was chosen as the name of this show. Michael Goldberg's bold gestural brushwork never rests. Neither does his fearless search for new modes of artistic expression.
During the process of painting, Goldberg's pigment rapidly dances, ducks, dives, drips, and re-emerges to overlap itself. In so doing, this artist's Abstract Expressionist approach exemplifies some of the most dynamic work to come out of "The Second Generation" of Abstract Expressionists. But artists such as Joan Mitchell, Grace Hartigan, Alfred Leslie, and Norman Bluhm emphatically did not feel that they were "second" to anything or anybody. Nor did Goldberg.
- Shirle Gottlieb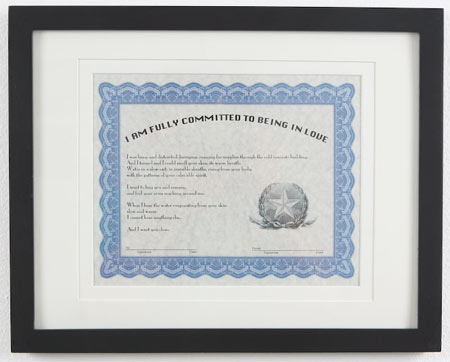 Sasha Dela, "I am Fully Committed to Being in Love," 2010, archival digital print, 8 x 11", at David Shelton Gallery.
Continuing through November 27, 2010
David Shelton Gallery, San Antonio, Texas

The artists in the intellectually challenging group exhibition "Ballad of the Non-Specific Object" have come of age in the new century, and it shows in works that take on fabrication and authenticity through a digital, post-globalization lens that is still very much Western. Allison Wiese embeds blinking red alarm signals in the kind of generic landscape "paintings" sold as "art" in chain furniture stores or thrift shops. Battery boxes are strapped to the frames, wires trailing like bombs. Nate Cassie continues his exploration of the tension between individual and community with new birdhouses -- one constructed of Plexiglas, its transparency at odds with our association of privacy with shelter, its predictable form at odds with our desire for individuality.

Sasha Dela's "Mixed Volumes 4 (Searching)" is a wooden shelf lined with worn books -- e.g. "Spectacular Rogue," about con man Gaston Means, "Earth's Aura," and "The "Interpretation of Symbolism." Are they deft facsimiles? Artifacts? Hybrids as it turns out, for our hybrid times. In an age when "searching" is reduced to "Googling," Dela turns art's ingrained critique of mass production into an elegy for the personal, tactile experience of mass culture.

- Elaine Wolff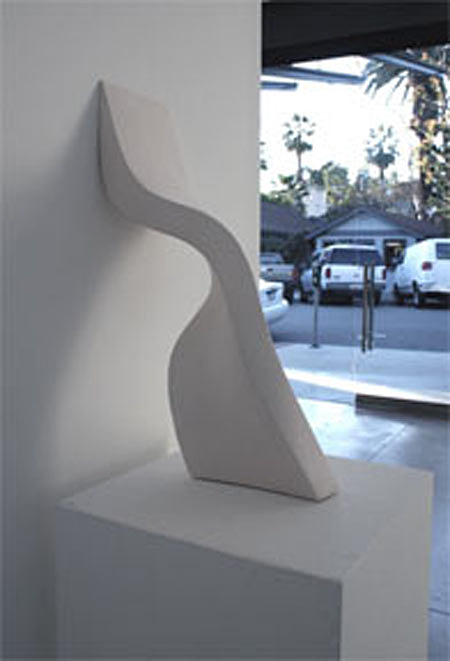 Stephanie Bachiero, "Push," 2010, ceramic, at Peter Blake Gallery.
Continuing through November 6, 2010
Peter Blake Gallery, Laguna Beach, California
The paintings of Steve Burtch and Victor Kreiden, and the sculpture of Stephanie Bachiero in "Introductions: Three Emerging Artists" lure us into a soft abstraction that subtlety creates a tension between object and surface. The exhibition starts with Kreiden's paintings that resemble melted hard edge abstraction. They have a finish that resembles stone, which is in sharp contrast to the warped curvature of his canvases. The geometric subject matter is refreshed through this relationship.
Burtch's traditionally square canvases are instead wrapped in mylar, which creates a screen allowing the under drawing and mixed media to peek through in a soft and indistinguishable manner. The vertical rectangles arranged across "No. 100007" are evenly distributed and appear kinetic as the shades of white create tension between the negative and positive spaces. Finally, the reflective sculpture by Bachiero are slabs of ceramic that twist and turn on their pedestals so as to imbue each piece with movement. The gesture of "Push" is typical of this energy, with which it strives to create more space by seemingly moving the wall against which it is set.
- G. James Daichendt
ArtScene and Visual Art Source are the in print and online resources to fine art galleries and museums in Southern California and the Western United States. Visit us online or pick up a copy for complete listings of art venues and editorial Reviews, Recommendations and Previews of the best current exhibitions. Be sure to visit our Openings Calendar page so you can plan visits to the latest exhibitions--of wherever you may be in the Western States.
Want to opt-in for a free subscription to stay current every day on our Weekly Newsletter, as well as new shows, events and (if you are an artist) artists' calls? It's easy.