"i miss the sounds of echo park/
i miss the bands that we would start/
the things we do they say will bury us young/
one last chance is better than none"
--"Bury us Young" by Ménage
Those insightful lyrics from indie band Ménage could be a battle cry for thousands of unsigned bands nationwide. In today's fractured music industry, D.I.Y. bands everywhere, most of whom are not signed to a label deal, are in it for their love of music and for one more shot at making it big.
Bela, Fernando, Gabe Ferreira -- Ménage
Ménage, whose anthemic new video Promises from its debut self-titled record drops this month, also plays The Viper Room (April 9). This show, at the iconic venue on the Sunset Strip, bookends a year of touring on their own expense -- from L.A. across the Midwest to New York then up to Toronto, Montreal and finally the East coast. Guitarist/singer Fernando Ferreira, whose rock quartet features his siblings Bela and Gabe, says they tour because they love to write music and perform live. Ménage's shows are an aural and visual treat -- think of Arcade Fire's cathartic sing-alongs meeting The Smashing Pumpkins' sonic bombast. Fernando says:
It's about your music affecting people. A music career can be a depressingly slow process but it's about putting out music, touring and gaining fans one at a time, not just in big city bars like The Viper in L.A. or the Hard Rock in Toronto but out in cool far flung places as Turlock's Grizzly Rock Cafe in California. You share your videos online, and upload your music to iTunes, but what you really want is to make music that moves people and be there when it happens!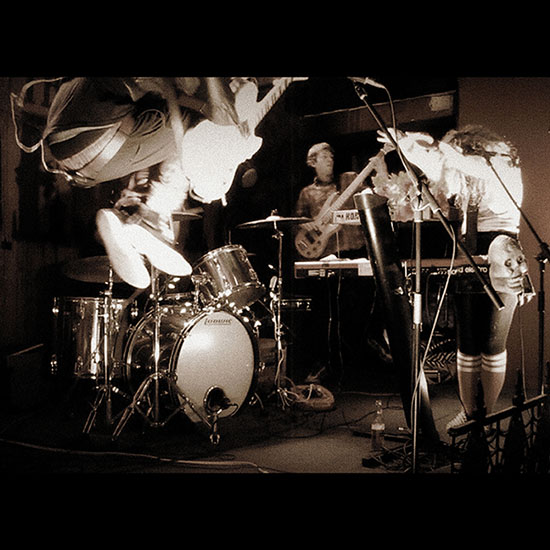 Ménage's music entertainment counsel is veteran New York lawyer Michael Guido, who reps some of the biggest artists including Jay Z and Kanye West. Guido offers a very succinct take on music's continuing influence, saying it's the most "ownable" art form we have: "It's one that people seem to be genetically predisposed to need in their lives. People say, I have to have my music with me." And even major industry player Clive Davis, in his recent Playboy interview concurred: "Music is a need. We're not dealing with a product that is dated."
And it's this desire to fill that hunger that inspires garage and indie bands to keep putting it out there in an industry that offers tougher odds than winning the Lottery.
Ménage splits its time between Toronto and Los Angeles, specifically the Los Feliz/Silver Lake/Echo Park hotbed that has produced divergent indie acts like Beck and Elliott Smith, and which continues to showcase hot indie bands through venues like The Satellite, The Echo and Echoplex.
Veteran musician D.H. (Peligro), who lives in this same musical hotbed, has toured internationally with The Red Hot Chili Peppers and the Dead Kennedys, with whom D.H. is playing several gigs in Brazil in April. D.H. relishes the D.I.Y. challenge for his own band, Peligro, including releasing a special vinyl recording of his punk-metal version of Hendrix's Purple Haze:
"You book some gigs yourself, maybe a small tour, you load up your van, get on the road, lose money and you love it. You get back, maybe do some session work or use Kickstarter to raise some money. Then get back out there to do it all again. These days, the best you hope for is creating a core fan base. You sell some CDs and cool merchandise, maybe some vinyl because it's become a hot little marketing tool. And, you do it all because you love it."
Working social media platforms, and the online marketing of one's tunes and music videos has become de rigueur for D.I.Y. bands. Indie film award-winning director Brad Ragland has filmed many indie band videos including Ménage's new Promises, and videos for Claudia Lee, Deep Deep Sleep and Starina. Often working with little or no budget, Ragland says creativity is essential:
"The key is maximizing the video's production value. Find locations that are visually pleasing and look expensive but are either free or inexpensive through friends/family. Write ideas around the locations to give the video a bigger 'feel.' Also experiment with the photography and give the video a 'look' to enhance the band's performance or give the storytelling a visual motif to help keep up interest in the video throughout the song."
Ménage's Ferreira says lawyer Guido told him "the rule is, there are no rules," that there is no instant formula that works today. And, fledgling blues rock guitarist/songwriter Lorelei Brewer, who's already played The Greek Theater, and released her debut D.I.Y. recording, Messages by Retrosincronicitys, adds, "My main inspiration for doing music is not to play 'rockstar' or to get rich and famous. Hell no. I quote a friend, 'I wish money had nothing to do with it.' "
D.H. Peligro's no-holds memoir, Dreadnaught: King of Afropunk, drops August 13 - http://www.amazon.com/Dreadnaught-Afropunk-D-H-Peligro/dp/0985490276
Also follow Ashley Jude Collie on Facebook and Twitter: @ashleycollie
SUBSCRIBE TO & FOLLOW CULTURE SHIFT
Every Friday, HuffPost's Culture Shift newsletter helps you figure out which books you should read, art you should check out, movies you should watch and music should listen to. Learn more