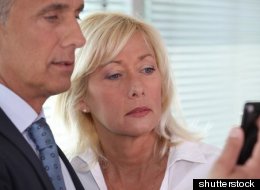 Most young adults looking for jobs or just trying to keep a decent reputation are scared of social media biting them in the ass. They change their Facebook names to their nicknames, stop accepting friend requests from people they've never met, lock down their privacy settings, and of course un-tag photos from last week's keg race.
I rarely hear from people who have knowingly lost a job or opportunity because of a status update, tweet, or profile picture. But take it from someone who learned the hard way: The fear of social media coming back to bite you should not be taken with a grain of salt. In fact, if you don't react to this fear, you might get kicked out of Germany. Well, at least that's what happened to me....
During my junior year of college, a friend of mine told me about an organization that sends students to military bases all over the world to help with summer camps for military children. Let's call it Camp Shmadventure.
This seemed like my perfect opportunity to cheaply travel all over Europe, since my living and flight expenses would be covered and I would even receive a stipend for working on the base. Unfortunately, the cash came with a hefty load of rules, which included no more than one alcoholic beverage per hour, no shots, no drinking if you were under 21, and a curfew. Although these rules seemed a little strict, what I heard from the program's veterans sounded like there was something of a "don't ask, don't tell" policy when it came to breaking the rules in the name of fun. Lucky for me, I was turning 21 my first weekend in Germany and planned to celebrate it just as I would in the U.S. And I did.
A couple weeks later, I uploaded pictures from my German birthday bash onto Facebook. They included a picture of me holding an empty shot glass while standing next to a friend, another of me gripping a beer mug, and a photo of me asleep with a laptop on my stomach (I was mid-Skype session). I assumed all of my 800-plus "friends" on Facebook had my best interests in mind and would be thrilled to see that I'd celebrated my 21st to the full extent. What I didn't know was that one of those 800 "friends" worked for Camp Shmadventure. Oops.
To sum up the aftermath, four days later I was on a plane headed back to the U.S. with my friend and fellow camp counselor (the one in the shot picture) by my side. Just three weeks into my three-month trip I had successfully used social media to screw up my (and my friend's) entire summer.

While it sucks that I missed out on the trip of a lifetime, I think I may have saved myself from worse consequences in the future. Due to this lesson in social media discretion, I deleted over half of my "friends," limited my privacy settings, and cleaned up my online image. I'd like to think that my social media makeover will keep my future boss(es) from thinking less of me -- especially since employers aren't afraid of digging into your social media pages to find out more about you (according to my friend who worked for a recruiting company).
Although it feels wrong to write about something you should be afraid of on a page that's dedicated to overcoming fear, I think having anxiety about your online image is a good thing. Hopefully, it encourages you to put your best self forward when posting a status update, tweeting, and of course uploading pictures.
Check out the slideshow for more social-media missteps:
When Social Media Bites You In The Ass....
... or so District Judge Raymond A. Jackson ruled this past April, thereby dismissing a case wherein a public employee was fired for clicking the "like" button on the Facebook page of the local sheriff's opponent. While the outcome of that case may change -- the ACLU has fired an amicus brief to overturn the ruling -- it's probably better to be safe than sorry when it comes to "liking" things your employer doesn't.

On May 7, 2012, Gene Morphis, CFO of the Houston-based corporation Francesca's Holdings, was fired for tweeting and Facebooking his job gripes. At least it gave him something else to tweet about....

So many people have been "Facebook fired" for stuff they've posted on their walls that the phenomenon inspired a WordPress blog: "The Facebook Fired." On September 28, 2011, its creator noted ruefully, "The Facebook Fired hasn't been updated since June. There have simply been too many stories to keep up with."

This BusinessInsider.com post gives the dirty details behind 13 instances wherein people were fired for their impolitic tweets. Here's the short list of topics you should probably avoid tweeting about (if you want to stay gainfully employed, anyway): 1) How you already hate your future boss and/or think your customers and/or coworkers are idiots. 2) Jokes about sexual assault victims. 3) Jokes about the tsunami in Japan. 4) Plot spoilers for a show you work on. 5) Your views on same-sex marriage (some VIP at your job is bound to disagree with you, whatever side you're on). 6) How bin Laden and/or Ayatollah Mohammad Hussein Fadlallah might not have been such bad guys after all. 7) How INSERT CELEB'S NAME HERE is a lousy tipper. 8) Jokes about dead celebrities' family members. 9) Racist slurs.

In this "Anderson Cooper Live" clip, terminated Brooklyn teacher Christine Rubino uses the ol' "I had a bad day" defense to explain her status update that said she hated her students and wouldn't throw one of them a life vest if he were drowning. "I feel bad that it spiraled into this," she said. Yeah -- so do we.

As one excited young reporter found out, even nice comments can get you canned. Thrilled to have landed a gig at Delaware's "The News Journal," he created a fake press release to celebrate it, posted it on Tumblr-- and promptly got axed for using material he didn't have the rights to. D'oh!
For more by Ashley Oerman, click here.
For more on becoming fearless, click here.